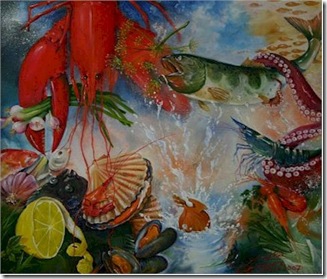 With such dazzling scenery from the turquoise crystal waters to the lush tropical foliage, one would imagine the Maldives to be an ideal venue for artistic inspiration. To enhance the inspiration, the resort Robinson Club is offering a special program of a art inspired events including 'Art in Full Bloom' and 'Cook n Art'.
"Heidi Gerstner, the recognized Queen of Roses, has made her name in the art scene with her precious flower and blossom paintings. With stimulating and professional guidance, she will introduce you to her refined spatula technique and lead you into the sophisticated art of acrylic painting…Nowhere else is the flora and fauna so diverse, inspirational and incomparable, as in ROBINSON Club Maldives-best conditions for good motifs, exciting days, and enjoyment. Experience in a gorgeous setting a workshop, which you will long remember."
"At this unique event you will experience a symbiosis of cooking art and exciting passion. We look forward to welcoming, Werner Fink, renowned expert for our exclusive event. Werner, who is famous in Germany and an award-winning chef, who was cooking at the Olympics over two decades and winning many gold and silver medals for recipes, will guide you through a wonderful and creative week. Originally self-taught, but later known as a student, he studied with well-known art professors at the Frankfurter Staedel and also made himself a name with his beautiful, meaningful and large-scale artworks. He is regarded as an exceptional talent and combines the two skills like no other…In addition, you will be introduced in Werner`s workshop to the art of painting. Painting your own chef`s jacket with tropical or culinary motifs, every other hobby chef will envy you, and you can take home an unforgettable souvenir and the memories of a beautiful and fabulous week in paradise."
Both events are full week long programmes with daily activity.