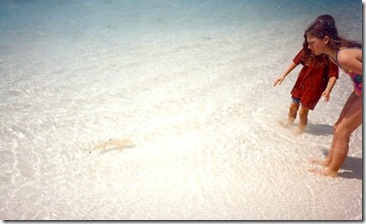 Eeek a shark! One of the most prevalent sea creatures that you will encounter in the Maldives is the white-tipped reef shark. But for those who have gorged on too many Hollywood special effects, rest assured there is nothing to fear. In fact, one of the most prominent characteristics of these infamous fish is how skittish they are themselves. After a while of snorkelling and catching glimpses of them, you really start to want to see them closer and realise how apprehensive they are about getting anywhere near you.
The most prevalent are the bitty ones you see in the lagoons like the one our children Isley and Chase are admiring above. But they do grow up to several feet long, but those ones are just as harmless (in fact, the bigger they are, the bigger scaredy cats that they seem to be).
If you want to see as many of these popular and populous creatures, then the place to go is Maaya Thila, described at the 'White Tip Reef Shark Capital of the Maldives'. While Maayafushi and Halaveli are nearby, the closest resort to this specially protected marine area is Bathala.
Tim Godfrey describes Maaya Thila in his book 'Dive Maldives'…
"The smaller white-tips are the centre of attention, with dozens of them circling the reef. Maaya Thila is about 80 metres in diameter and can be easily circumnavigated in one dive – if the current is favourable – although it is not uncommon for divers to spend the entire dive in one area to digest the incredible diversity of marine life."