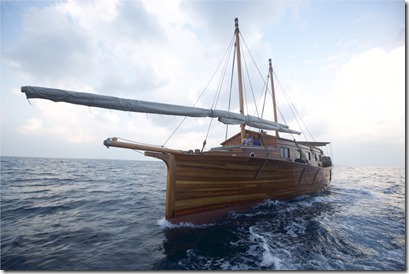 If you want to live the maritime heritage of the Maldivian dhoni with all the conveniences and luxuries of this modern day paradise destination, then Velaa offers a distinctive dhoni crusing yacht, "Baththeli Anna".
"Baththeli Anna, the prncess of the Southern Seas. Designed to ensure the utmost comfort for her guests, Anna is a beautiful custom built Maldivian baththeli ("baththeli" – boat on Dhivehi language). This luxurious, uniquely designed traditional sailboat was laid down in April of 2012. Then crafted under the supervision of the Master Boat Builder, Matias Luhmann, himself alongside the proficient team of Gladonia Maldives Pvt Ltd. The idea of its elegant lines and comfortable spaces was conceived by the boat design, Philippe Laurella, French at birth, but Maldivian in Spirit."
One of my biggest pastimes is the sport of rowing. The carbon-fiber sculls are the state-of-the-art, but I'm afraid that I'm still smitten by the aesthetic romance of a boat sculpted out of wood.
Specifications:
Length – 76 feet
Weight – 45 ton
Overnight guest capacity – 3
Day touring guest capacity – 8
Maximum speed – 12 knots.
2 Hour, 4 person Sunset Dolphin Cruise – $1,695
5 hour, 2 person Desert Island Dinner Cruise – $7,440
2.5 hour, 4 person Luxury Private Snorkel Trip – $1,895
8 hour, 4 person Charter Cruise – $5,495
With this post, I've added a new "Cruising" tag as the highest end resorts seem to be extended their super-premium arms race into a naval battle of yachts.