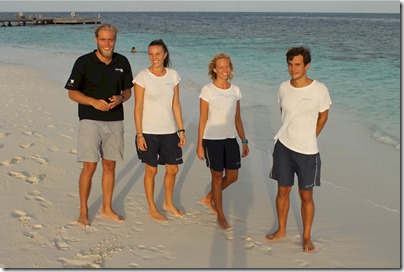 The ultimate "fishonistas" are the increasing schools of marine biologists at the Maldives resorts. A few years back, having a resident MB was limited to a few luxury properties, but now many resorts feature them. They provide an insightful snorkel/dive guide, offer educational talks, and conduct their own research in the surrounding ocean.
I've seen a few resorts with two marine biologists on staff (eg. Four Seasons Landaa Giraavaru, Velaa), but Athuruga had FOUR there when we visited.
One was Enrico (far right photo above) from the University of Milan. He was conducting research on COTS. He told me he was finishing his secondment and he appears to have replaced by fellow Italanian who spoke about the Athuruga COTS research recently…
"Our resident marine biologist Luca Saponari during a speech regarding his scientific research on the outbreak of 'Acanthaster planci' (crown-of-thorns sea star) in the Maldives, a study that he is currently conducting at Diamonds Athuruga and Diamonds Thudufushi Beach and Water Villas. Luca spent 4 days at the #Bicocca University in Milan, participating in the first National Congress named "Biodiversity: Concepts, New Tools and Future Challenges".
Another one works with the Manta Trust project hosted at the resort…
"On the Islands of Athuruga and Thudufushi, the Manta Trust biologists accompany our guests on private excursions, mainly dedicated to manta rays, explaining their activities and giving tips and scientific information on their behaviour. Diamonds Athuruga and Diamonds Thudufushi, both run a "Biology night" and a "Marine Biology Laboratory" which allows our guests the possibility to enjoy a brief description of overall Marine life in the Maldives, from plankton and up to bigger species."
One of their ongoing projects is the Athuruga YouTube series "Maldives Marine Lab Diary" which features a number of informative shorts on various aquatic subjects like turtles and feeding habits.