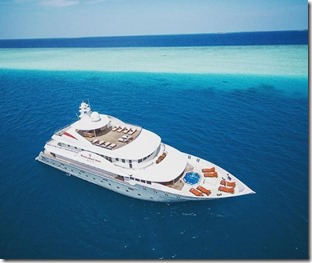 "We're gonna need a bigger boat" – Martin Brody, Jaws
Well, not for the sharks (or "sand puppies" as we call them). More for the marina flashonista set, . Dhigufaru has introduced the largest resort yacht in the Maldives. The Dhaainkan'baa is 41m (LOA) and has 7 Staterooms (6 Doubles and one Twin). That compares to the Four Seasons Explorer at 39 m (although the Explorer does have 10 staterooms and one Explorer Suite).
Fully equipped for diving, motorised water sports, fitness equipment and spa therapies. You can get more massive details from the Fact Sheet here.