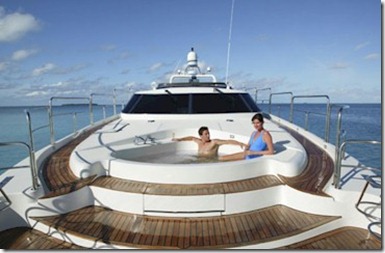 Usually you have a relaxing float in the Jacuzzi, but at The Rania Experience your float can float.
Whatever floats in your boat!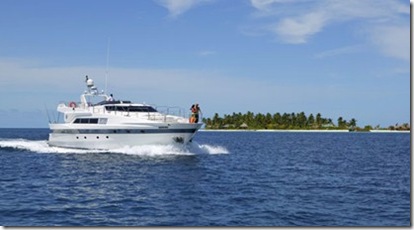 A number of the most upscale resorts offer some nice boats for day excursions or more. When we stayed at the Conrad Maldives Rangali Island several years ago, we had a delightful sunrise cruise on the wooden ship Goma that they kept there. Several have dhonis including obviously Dhoni Island where water villas are inspired by dhonis.
But if you are keen on your very own flash motor yacht, then The Rania Experience is the place for you. It's very tag line is "One island, one yacht, one million possibilities."
The web site describes…
"The RANIA yacht, a majesty 86-foot Gulf Craft luxury speed cruiser is at the guest's disposal daily for 3 hours and any additional hour rental is at a minimal rental fee of US$ 2,000 per hour."
Methinks that Rania also might just score the 'Best Of' superlative of the Maldives' 'Most Expensive Excursion.'