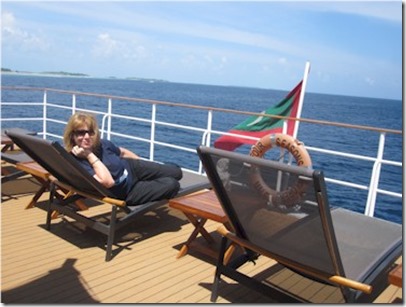 Maldives Complete also doesn't do boats in its profiles or 'Best of' reviews. I've shied away from getting into the whole 'Live Aboard' segment of Maldives holidays because, like Guest Houses, I've never been on one so I wouldn't know which criteria to feature or how to write about it.
But, this post's distinction is sort of a resort/cruise hybrid so it just passes. It's sort of the ultimate water villa. A mobile water villa.
We have always fantasized about taking a cruise boat actually as a way to see lots of nooks and crannies of this mystical archipelago. Having been to many resorts and enjoying the discovery of new gems, the notion of touring along a stopping at all sorts of little islands off the beaten path and then retiring to the ultimate in 'water villas' sounded entrancing.
We can see the appeal of such a floating holiday…
If you ever wanted to try out the mega-yacht life for the experience of your very own (ever see those gigantic yachts parked in swish harbours with ports of call on their bow for 'C.I.' and 'V.I.' and wonder what staying on them would be like?).
If you've ever thought of going beyond even the picnic island excursions of resorts to the most secluded and far flung hidden parts of the Maldives strung together like your own customised 'virtual' resort.
If you are thinking of an extended (time and budget) holiday over say two weeks and definitely want to split into two resorts
Well, any of these have crossed your mind, then the Four Seasons has an offer for you with their Four Seasons combo offer on the exquisite Four Seasons Explorer offers a brilliant option.
22 guests

39 meters

1 suite

10 state rooms

Wi-fi (this surprised me…I thought I would have to forfeit my digital connection for the tour)

Underwater videography

Kayak, snorkel, water-ski

Spa therapist on board
Another possible title for this post is "Billionaire for a Week". Like my "Billionaire for a Day" post. The price of chartering the Four Seasons Explorer is $16,000 per day (last I checked) for whole yacht. For 22 people that's a bit over £500 per day which isn't exactly billionaire price bracket. But it certainly is the billionaire lifestyle.