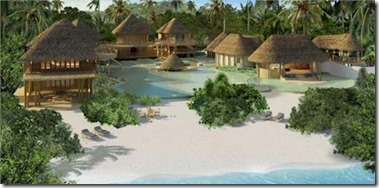 Festival of Sleep is possibly the true and appropriate end of the holiday festivities. Established to "some shut-eye and relaxation after the holidays", possibly the chronological and spiritual antithesis to "Black Friday" which kicks off the mayhem of the season.
The resort, in fact villa, that could open the door to its own sleep gala is Soneva Fushi's Private Residence with 9 bedrooms (though one is described as staff quarters)…
"The residence is a two storey collection of villas with an expansive wraparound swimming pool spread over a large area with generous outdoor living space. The master bedroom boasts its own private swimming pool measuring 111.3 m2 and an outdoor bathroom but there are five additional guest bedrooms, a children's bedroom, a smaller nanny's bedroom and of course one for the Mr./Miss Friday butler."
Rental prices will range from $11,300 – $30,000/night depending on the season.
Wishing everyone a restful recovery from the holiday season!