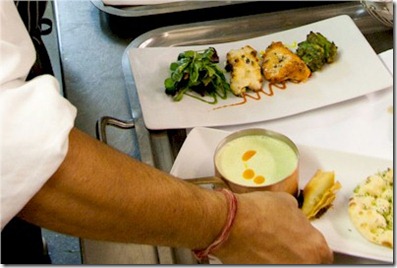 Despite stirring up a bit of a teapot tempest last year with my 'What Else I Haven't Seen' piece, I have concocted yet another version with another year of researching and investigating the Maldives tourism industry. The Maldives Complete 2012 Gap List includes…
Segment Specialty Resorts – One of the original objectives for the 'Best of the Maldives' section and write ups was to highlight where resorts developed and offered certain unique or distinctive specialties. In marketing, trying to be all things to all people is generally not a great idea. In fact, for this first category, maybe not trying to be all things to all 'peoples' might be a good idea…
Chinese Resort – Choose some island on a plateau with a big expansive, shallow, current-less lagoon. Such islands are not popular with Westerners who like to snorkel, but are ideal for the Chinese who have less of a cultural tradition of swimming. Offer free swimming lessons for everyone. Invest in some reefscaping so they have some coral and fish to look at whilst snorkelling. Have mostly Chinese speaking staff and Chinese language materials. Menu and activities catered to Chinese tastes. Maybe could do it near Gan and have direct flight from Shanghai to Gan airport (that would help develop that outlying region of the Maldives especially since around Male is getting over developed) and would eliminate the need for Male transfer which kills so much time especially for the Chinese who prefer a shorter stay. To accommodate these shorter stays more easily, have a very flexible booking system. Despite all of these features tailored just for the Chinese market, I got some great insights from

Dolores Semeraro

(PR manager at LUX* Maldives who is a bit of a sino-expert having worked in China for half a decade) that such a resort just wouldn't appeal to the Chinese. She noted that Chinese don't want to go to a resort tailored for them, but prefer to go somewhere with an international feel. She also highlighted the risk of putting all your eggs in one geographical basket. If there is a downturn there or the Chinese market fancies another destination, the resort has problems (as some Italian oriented resorts are having now).

Islamic Resort – With all of the various cultural variations and ambiences among a variety of resorts, how about one catering to the Islamic holidayer? Resorts must be a real frustration for many of devout Islamic faith especially with their plentiful alcohol and rampant exposed flesh. With Maldives itself a strongly Islamic nation and geographically located in the epicentre of the largest Muslim population centres (from the Mid-East through the Indian Sub-Continent to the South Pacific), it is superbly well positioned to innovate in this regard. No alcohol, conservative dress standard, praying facilities and calls to prayer, all halal meat, spa limitations, large private areas behind the villas would all make for a more enjoyable experience for these guests.
Singles Resort – Maybe not an entire concept 'devoted' to singles, but a resort that has a few rooms set up for singles (without a single supplement) and maybe a few activities to help singles find each other and make some friendships during their stay.
Room Ideas
Individual Design – 'Design' is all the rage in the new and revamped resorts these days. How about each room individually designed.

Crazy Bear

and

Ice Hotel

are first class examples of this approach to hotelier distinction.

Home Cinema – One of the things my wife and I love to do to chill out is to watch a nice film. Admittedly, in the Maldives we are fine with a book or lingering in the starlight with post-prandial pina coladas. But, I could see the appeal of a really nice home cinema in some of the bigger suites. Especially for those who don't like going out in the sun much. Another purpose it could be put to would be to run high definition videos of underwater scenes which would provide a stunning and artistic bit of decoration for the room during the day.
Heated Gel Beds – The absolute best things we have ever experienced at

Pennyhill Park Spa

. For a destination that prides itself on being the pinnacle of soporific relaxation, these technological marvels are just waiting for some enterprising resort to add to their portfolio.

Water bed – There is water everywhere. And lots of beds for relaxation. But there are no water beds. I guess these are a bit out-of-fashion since the 70s and not everyone's cup of tea so kitting one out would risk have an unoccupied room on many nights.
Poconos Honeymoon Glitz – Speaking kitschy honeymoon trappings, a bit surprised that some Maldives resort has not gone a bit more OTT on the romance theme. Heart-shaped beds, heart-shaped baths, mirrored ceilings, etc.
Ocean
In-Ocean Pool – This notion seems ridiculous until you start to think about it. This idea emerged from a dinner chat with my wife

Lori

and Vilamendhoo GM Patrick de Staercke. Why would you have a 'pool' in the ocean? Not a fresh water pool made out of cement stuck in the middle of a lagoon. But a pool simply made out of some demarcation of the seawater. A platform all around for people to sun and relax 'by the pool' and underwater fencing sunk into the sea floor. It seems like Australia has done a

number of salt water pools

sort of in the ocean, but nothing like our vision of a 'pool' that is really just a 'pen' or enclosure in a lagoon with decking around it (the Aussie versions are regular pools with seawater pumped in). Something close is the infamous Blue Lagoon in Iceland. With decking all around and a 'sand' bottom, the spa has the 'feel' of a pool, but it is actually a natural body of water. There are more reasons than you might realise…

Some people are afraid of sharks – We admired a cute little baby shark in the lagoon when a guest came up to us and said 'And they let people swim in that water!' (no joke). A 'pool area' with a mesh segregation would keep little sharks out for these people.
Some people are afraid of fish full stop – Seriously no joke. Every resort manager we have met has had a story of a customer complaining that 'there were too many fish in the ocean'.
Eco-Friendly – Without chlorine and other chemicals or energy for pumping and filtering, the facility would be big on the ecosustainability.
Sensitive feet – One of the little aggros of swimming in the lagoons is occasionally stepping on a sharp rock or coral fragment. This 'ocean pool' could be kept groomed with nothing but soft sand on its 'floor'.

Sea Horses – Sea Horses are native to the Indian Ocean but

just about never seen

. They are delightful creatures. For a resort looking for a marine biology project like

Four Seasons Landaa Giraavaru's manta and anemone fish work

, or

Four Seasons Kuda Huraa's turtle program

(and may other resorts that do turtle nurseries), perhaps a resort near some sea grass could do a research project for sea horses and build up a population.

Ocotopus Programme – They are not rare creatures, but they are super difficult to see. Even the marine biologists admit that they don't see them that often. An excursion with specialty in finding them would be a big hit.  Fayaz and Adam at Mirihi's Muraka restaurant did provide some tips though.  They said that when Maldivians go to desert islands themselves for family picnics, they will often fish for their meal and even go snorkeling for some octopus.  They said that you need to look for piles of sand by dead coral because they dig themselves into holes to sleep.
Life Guards – Especially for resorts with lots of Chinese visitors (who have statistically less swimming experience and training), I think it would be a good measure (and good employment for young Maldivians). Though Maafushivaru and Shangri-La have lifeguards on demand, I think most people will be too reserved (or over-confident) to ask for them.
Free Snorkeling Safety Whistles – TripAdvisor's Maldives Forum came up with

this idea

and I thought it was brilliant. Some resort could have a bunch made up with their logo printed on them.

Snorkel Lilo – Entrepreneurial idea for someone – create a snorkel lilo designed like those spa massage beds with a place to put your face/mask to look at the sea life. Lilos can be a great way to snorkel especially is you are a lazy or weaker swimmer. The 'problem' with conventional lilos is that there is nothing supporting your head (you have to hang it off the end).
Service
Gourmet Maldivian Restaurant – In London, a number of Indian restaurants have gone high end, adapting traditional Indian recipes to a Cordon Bleu nouvelle cuisine style in both delicate preparation and striking presentation (eg.

Zaika

– see photo above,

Bombay Brasserie

). Not bowls of stewed curries with various rices. Why doesn't one of the super premiums do gourmet Maldivian-inspired dishes?

Snorkel Butlers – 'Butlers' which seemed OTT a few years ago are now simply table stakes for the super premium class resorts. To provide further distinction, resorts are providing specialised butler services like Kanu Hura's 'Pool Butlers', and Reethi Rah's 'Skin Butlers'. Makes me wonder what sort of other butler services there could be? Fitness Butlers (combines personal trainer with a nutritionist for those you want to use their holiday for a body tune up). Snorkel Butlers (takes care of all of your equipment, like rinsing after a use, as well as providing guided tours not just on the house reefs but to special private excursions.