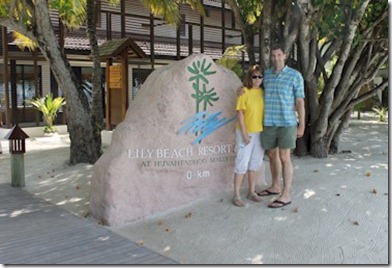 Just right.
That was the best compliment a family friend, Elmer Rising, had for a meal or anything he enjoyed. As an artist, he had a deep appreciation for getting things 'just right'. For a meal, it was not over the top (like some Thanksgiving feasts), nor conversely lacking in anything. That is the phrase that came to mind visiting Lily Beach.
One of the great attractions to Lily Beach is its Luxury All Inclusive offer – the Platinnum Plan. The plan includes everything you can imagine outside of special excursions (eg. motorised sports, diving) and special meals (eg. lobster dinners in the Wave restaurant). The plan even provides cigarettes which I'd not come across before.
Not only is the plan an attractive value, it also changes the whole ambience of the property. That is because it is the only plan they offer and everyone is on it. As a result, staying at Lily is more like staying at some rich friend's paradise estate than it is like consuming a holiday package. No signing for things constantly. No class/category dividing arm bands. Never hearing the question 'What room, sir?'
A few years ago Lily underwent a refurb to take it from 4 to 5 star status. It ticks all the boxes to the Maldives Complete special '5 Star' checklist. Smart food, rooms, service throughout. One of the key qualities I look for in resorts attesting to 5-star status is shortfalls. If you are going to be a true '5 star', then you really shouldn't have any 'holes in your game'. And Lily Beach was solid throughout with a few special touches of distinction thrown in.
The house reef is more like 6 stars. A mere 3 metres from the shoreline it is closely accessible to the beach from one entire side of the island. It has a quite deep drop-off (about 20 metres), but the drama comes with the coral. All sorts of shapes, sizes and colours of vibrant and healthy coral are packed onto the reef. Sprinkled with endless colourful schools of fish. Lily would definitely be a candidate for 'Best House Reef Coral'. An amibitious distinction, but Lily is worthy of candidacy.
Tip 1: Family Beach Villa – Lily offers several Family Bech Villas with interconnected rooms. Not unique in itelf in the Maldives, but still rare enough to be appreciated by family visitors. Lily have been extra smart to kit out the two rooms with one having double bed and the other having twin (so siblings don't have to share a bed that might cause friction not welcome on a holiday).
Tip 2: 'Beach Suite' – One of their Beach Villas (#300) is actually a 'Beach Suite' with a living room added. There is no extra charge and can be requested on an availability basis.
In addition to the 'Luxury All Inclusive' distinction, I have now identified a further 11 Best of the Maldives candidates to research and share in the coming months.
Just right.