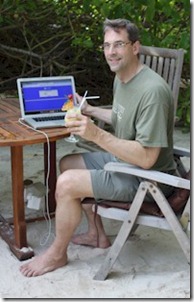 Just a literal (or should I saw 'littoral') stone's throw away, we proceed onto Paradise Island / The Haven.
We've have been very close to visiting Paradise (the resort, not the notion) several other times before. A few years back when the family was seeking out a more value-for-money place, it made the short-list. And subsequent North Male visits took us to Manta Point for diving which is just off Paradise's house reef.
Paradise pioneered the concept of the split personality island. Where a newer part of the island, typically water villas, are developed to a significantly higher standard than the rest of the resort. Often an entire 'star' difference (eg. 4-star and 5-star). Now over half a dozen resorts have this sort of 'split' set up. Often the adjacent properties have completely distinct branding, logistics, service, etc. This trend was just one reason the contributed to the development of Room Type database to provide people with more granular information on possible destinations. Just a profile on a resort as a whole doesn't really tell the whole story of what's on offer.
One of my discoveries was that The Haven water villas allow children of any age. Pretty much all of the water bungalows that I know of have restrictions against children staying there for safety reasons of them falling into the water. The policy at the Haven is to firmly warn the guests of the risks and if they do want to still stay there with children, then they are allowed to do so. This flexibility will be very welcome to families looking for the water villa experience but often restricted from doing so.
Another aspect of a big island is that it often sits on a big lagoon table making the house reef hard to reach and the snorkelling less exciting. But, as duly logged in Snorkel Spotter, we had a delightful snorkel seeing a shark, sting ray and more lion fish in one little rocky overhang (about a dozen) than we had ever seen.
I uncovered a further 6 Best of the Maldives candidates during my stay to add to the 2 already done. Great to finally make it all the way to Paradise after so many close callings.