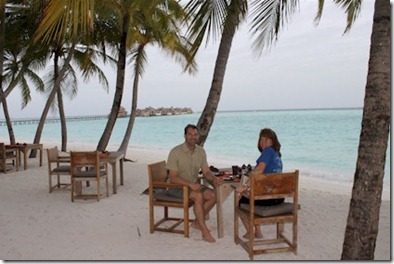 Gili Lankanfushi is probably the most anticipated stop of the Tour. And it is our very first stop. When we were first planning our earliest trips to the Maldives, and compiling a massive spreadsheet of research data that would eventually evolve into Maldives Complete, our friends Andy and Linnet forwarded me a picture pulled from a travel magazine of the new extravagant water villas the likes of which none of us had ever seen. With Huvanfenfushi, it really kicked off the move by the Maldives to super-premium resorts that were built from the ground up with 'wow' factors such a distinctive designs, creative touches and remarkable features. I vowed that one day I would visit this magical resort.
Visiting Gili was also especially timely as it just changed ownership and branding last week The Soneva chain has sold the island to HPL Hotels and Resorts and renamed it 'Gili Lankanfushi.' There has been no refurbishment and pretty much all the staff hae remained the same. It's clear that they want to preserve the distinctive concept and reputation of Gili and so no major changes are expected. They do have a new web site with all of the latest up-to-date detais.
Gili is a 'plateau' island (largish island sitting on a broad, raised underwater tableau) and such islands are not typically renowned for great snorkelling. But Soneva Gili is a great illustration of the power of Snorkel Spotter. The local marine biologist Vaidas Kirsys, who is used to fish surveying for his current research project, has logged a Maldives topping 21 sighting of everything on the Spotter list (lobster, ray, octopus, shark, turtle, manta). When we were there we were greeted by one of the larget reef sharks we have seen in a lagoon (well over a metre), duly logged in Snorkel Spotter. We decided to aim for Three Palm Island which was both near to our villa and where there was a sighting of an octopus logged. He didn't find one but saw a large school of yellow snappers.
So renowned are many of Gili's distinctions that I have already published 9 pieces about (the former) Soneva Gili. I uncovered a further 16 distinctions during my 24 hour stay. Combined with the 9 previous that takes Gili to 25 'distinctions' which is the same as the 'league leaders' W Retreat and Four Seasons Landaa Giraavaru. Without doubt, one of the top 10 resorts in the Maldives.
Great to finally see this first of it's type first class property first hand.