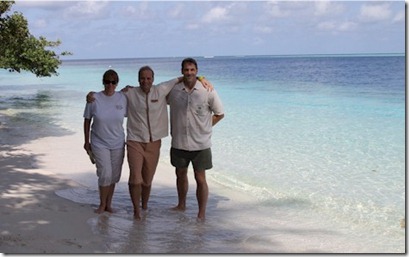 Best in class.
Any fighter (weight class), racing driver (engine class) or school athlete (age class) will tell you that the key is being best in class. Vilamendhoo makes a serious bid for the best 4 star in the Maldives. Leading contenders before for me were Kuramathi and Komandoo, but both of those have joined the inexorably rising premium tide and have re-positioned themselves in the increasingly crowded 5-star category. Despite a sparkling, top-to-bottom revamp, 'Vila' has stuck to its 4-star designation.  The value extends beyond the room prices as all of the resort prices are reasonable. For example, their lobster dinner on the beach is only $60 (£37).
While Vilamendhoo has joined the herd stampeding to ever higher standards in the Maldives, it has broken away from the pack, part of a rare breed of superb 4-star properties there. The 4-star move is a smart one for customer delight. Rather than be yet another 5-star, it stands out as a 4-star. The key to customer satisfaction is exceeding expectations. And anyone coming to Vila expecting a 4-star resort is going to have their expectations exceeded. Everything is at least 4-star quality or better. And they have splurged on some typically 5-star touches like drench showers and an overwater spa. Lori and I have stayed in the poshest of posh hotels and are pretty fussy with our dining and sleeping, and we would be very comfortable and happy spending a long visit at Vila.  I identified a further 6 Best of the Maldives candidates during our stay to be posted over the next few months.
Quality and value aren't the only areas where Vila straddles having your cake and eating it. It also deftly hedges the raging 'children' debate (some love Maldives as a great destination for the family, while others prize the tranquillity that they fear children disrupt) by offering two areas – one welcoming children and the other exclusive to adults only. This solution is as effective as it is diplomatic. Visiting both pools, both bars, and both restaurants, they did each have a different vibe. And that is great…different strokes for different folks.
The thing that you have to keep in mind about the Maldives (and this is the root cause some perceived ratings inflation) is that the destination itself is a 6-star destination. You could put a cardboard box on the beach and it would still be close to a 5-star experience compared to many places in the world. In this context, Vila is a bit like Hagen Daz vanilla ice cream. It's not particularly fancy with all sorts of elaborate gourmet mix-ins. Just sumptuous, delicious ice cream. Again, the Maldives – the waters, the reefs, the sunset, the palm trees – are like the best pie you have ever eaten. The resort is just the scoop of ice cream on top. And Vilamendhoo is a simply superb complement to such a tasty dish of paradise.
Post Script – The little tan blob in the right hand corner of the picture above (for the eagle eyed) was a sting ray passing by during our photo. Below Lori says a closer hello.