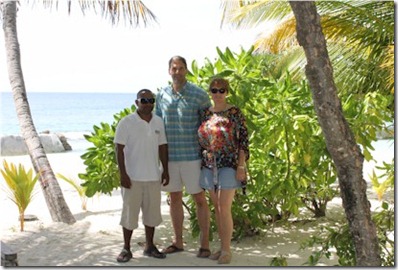 Great things come in small packages.
That is certainly part of the charm of the Maldives. When I try to describe the magic of the place, I often refer to the iconic tropical picture of a plop of sand and a solitary palm tree. That is the Maldives. And the islands that come closest to that romanticised ideal are the small ones. And as a result, they are pretty popular…and pricey.
Maafushivaru breaks from the overbooked and premium priced herd of mini-isles. It is in the top 10 of smallest resort islands in the Maldives, but it is only positioned as a 4.5 rating despite a very high standard throughout. Also, it has mostly sold its limited inventory to the Swiss market (Kuoni headquarters) and Italy (where people there know it from its previous incarnation as 'T Club Maafushivaru'). As a result, it isn't as widely known in other parts of Europe or Asia. But it is opening up inventory to those markets so it is an opportunity to snare a tiny island experience without a millionaire salary or booking a year in advance.
And if that's not small enough for you, then there's the neighbouring deserted island of Lonobu. It is an intriguing gem in its own right which will be my first 'Best of the Maldives' for Maafushivaru next week. It has two villas that you can rent (two to accommodate a family, but only one guest group at a time can have the island for a dinner plus overnight stay). It's the desert island experience…with air conditioning, plumbing, mini-bar and TV at hand. Stay tuned for more.
The rooms are not small though. They have a spacious feel to them with towering cathedral ceilings. Extensive use of polished concrete is an elegantly simple design. Also, the black and white prints are very classy.
I came away with 9 Best of the Maldives pieces for Maafushivaru which will break their duck for Best Ofs.
Small resort with a big impression.