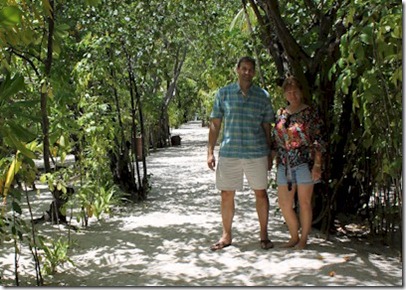 Mythical Mirihi of Maldivian Magic.
I stepped off the transfer to Mirihi with the highest of expectations. Expectations built up from near frenetic fandom expressed in reviews and especially the TripAdvisor Forum. And the biggest compliment that I can pay them is that they met or exceeded those.
The most common question I get asked by people interested in my Maldivian expertise is 'Which is the best resort?' My answer is always, "There is no 'best resort', only the 'best' for you." There are resorts of every shape, size and style to suit every personality, preference and passion. But if someone twisted my arm, one of the ones that would come to mind is 'Mirihi''. And I hadn't even visited there yet.
It's a champion on paper. Classic diminutive size. Affordable to mere mortals. Renowned house reef. Maldivian classic 'feel'. What it really prides itself on are 4 aspects – Service, House Reef, Food, Ambience.
Service – Normally, I poo-poo resort claims of exceptional service. I find that that outstanding service is pretty pervasive in the Maldives. What I would say was distinctive were the smiles. Everyone had a big, bright, just short of laughing, sincere smile on their face. There is nothing like a smile to make one feel at ease. On a more pragmatic level, they claim that they have a very high staff/guest ratio (145 staff for 72 guest). Maybe not as concentrated as Jumeriah's one butler per guest, but still heavily loaded for a non-super-premium property.
House Reef. Wow. A stunner like the Joan Harris of house reefs – voluptuous, colourful, strong. A blockbuster like the War and Peace of house reefs – interminable, shades of dark and light, complex twists and turns. At the water villas, Lori described it as 'house reef on your doorstep'. The minute you step off the deck ladder and poke your mask underwater, you are surrounded by coral and fish. When we finished our snorkelling, she just sat on the deck stairs for 20 minutes flirting with a curious wrasse. While most water villas in the Maldives are perched on lagoon ledges with relatively sparse coral, Mirihi's are right in the thick of it. Adding to the drama is the relatively unique topology. Most house reefs either plunge to a vertical drop-off or stretch across a horizontal plateau. Much of Mirihi's is on a gentle 45 degree slope giving the reef a bit of dimension as it descends. Then, the coral stops in the relative shallows (12 meters) and you have white sand which is nice because it creates a contrasting frame for spotting critters passing by deeper down. The reason the island itself is so small is because the house reef dominates so much of it. Lots of treats, but one feature that struck me was the most blue tipped branch coral I have seen, both in aggregate and in individual monster clusters.
Food – Here was another area where I am quite discriminating. I like my food. I'm not so much a snob that everything has to be nouvelle cuisine fussiness. But I will distinguish between a 'yummy' and 'wow'. For most resorts producing food on a large scale, just getting the majority of dishes to the 'yummy' level is quite a trick. I was duly impressed that everything I ate was 'yummy' (even 'scrummy') and there were a few 'wows' thrown in as well (notably their Lobster Dinner, more on that later).
Ambience – Mirihi is not perfect. The biggest and deliberate shortcoming, is the extent of infrastructure. Most prominently, no pool, but also no tennis court and limited other land sports and activities. And, shock, horror – no TV (except for one TV in the lounge for special events). But Mirihi has flipped this possible shortcoming into an advantage. They strive for a very simple minimalist ambience. Focus is on the experience, not the infrastructure. What they call 'soft factors'.
Masterful.