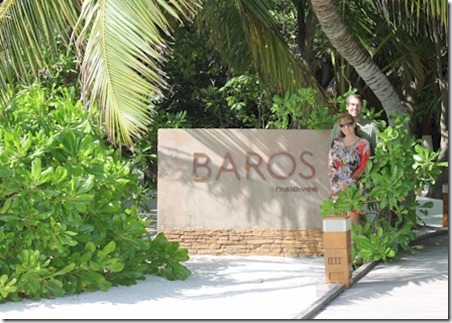 Pepperoni Pizza, Hot Fudge Sundae, Dry Martini. Just a few examples that of simple concoctions for classic cravings. Get choice ingredients and blend them just right and you have an irresistible temptation. Sort of like Baros – gorgeous house reef, classy décor, lush island. Stir gently with a tropical breeze. Savour.
One ingredient deliberately avoided by Baros is distraction of children. Under 8s are not allowed and there are no family rooms so few teenagers tend to come.
Baros has had more years than most to work on its special recipe. It was the 3rd resort in the Maldives (after Kurumba and Bandos) and is celebrating its 40th anniversary this year.
Quiet elegance. It doesn't splash around a lot with flashy features. A great over water restaurant, a great house reef (probably the best hard coral we have seen since Mirihi) and attention to details of quality and privacy. A real lovers' haven.