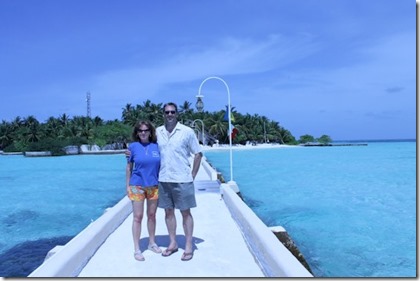 Curiouser and curiouser. Just when you think you have seen it all after visiting 47 resorts in the Maldives (and researching all the others), you pull up to a place like Nika which defies comparison to anything else in the Maldives.
It's easier to compare Nike to a hotel back in the old country of its heritage, Italy, than to another Maldivian property. In fact, their tag line is "Maldives Italian Look". It was one of the first 10 resorts in the Maldives (and among an even more select group of that original 10 that are still around). The original owner developed a distinctive villa style, part ocean influence and part Italian old world style with curios strewn about.
The whole feel of the place reminded us of one of our favourite Italian hotels – Hotel Florence. On the shores of Lake Como, the infamous town of Bellagio makes most people think of the flashy, slick, 5-star-plus luxury Hotel Serbelloni. But we found that the Florence, just next door, exudes charm and character, with exceptional views of the lake and at a fraction of the price. That is exactly like Nika.
The 'villas' are unlike anything you have come across in the Maldives. With their distinctive size (the bathrooms are bigger than most bungalows in the Maldives…seriously, you could play a game of squash in there) and privacy, they are more like 'beach homes' or 'seaside cottages'.
It is not just the villas. The whole island smacks of something like a little seaside village rather than a resort. Low set stone walls line two parallel sand boulevards giving the island the ambience of an exclusive community. Since everything is sequestered into its own private area, you see very little of the island interior. The individual residences are as private as the staff residences are in most resorts. And you can't see much of the outer island by walking around the shore because guests are not allowed to walk on any beach except their own and the two public beach areas.
Of course, you can go one step further out and snorkel around the island on the house reef. While hit by El Nino a while back, it still sports a fine drop off teeming with lots of fish (we saw sharks and two moray eels nestled together in a crevice).
This tour feels a bit like raiding the Italian stash of prized resorts (sorry Roberta). Bathala, Gangehi and now Nika. No major UK operator is carrying Nika, but you can book directly online. I came away with 21 Best of the Maldives candidates (and some of the more unusual ones ever) so there are plenty of reasons to venture into this quirky little slice of tropical Venice.