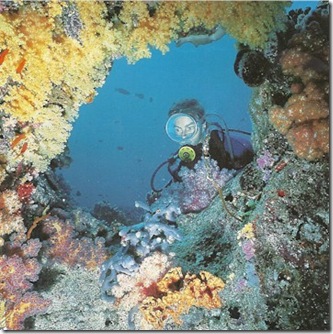 If the underwater stars that dazzle you are star fish, starlets and feather stars, then Park Hyatt Hadahaa is the place to swim to and at.
Adrian Neville tweeted last week, "Park Hyatt house reef, the best corals of any resort bar none. But oddly the fish life is as quiet as life on the island."
Not much better authority than Adrian Neville. And he's just finished latest research for his upcoming edition of his must-have book on Maldives resorts 'Resorts of the Maldives'. Check out his Twitter stream for 140-character advance tidbits.
Hadahaa is in the Gaafu Alifu atoll which Harwood and Bryning's book "Complete Guide to Diving and Snorkeling the Maldives" describes as "The coral reefs inside the atoll are in great condition and a marvel to dive and snorkel" (see picture above).