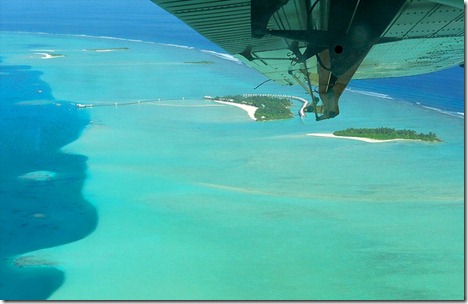 To each his own. Many Maldive aficionados focus on the best house reefs as a critical decision criteria. The deep, coral and fish filled features stand in stark contrast to the shallow and sandy lagoons that also permeate the archipelago. Typically, the two are mutually exclusive. The geography of an island that makes for big lagoons tends to make for distant or less prominent house reefs.
But not everyone is all house reef obsessed. With Olympic-class pedalos on hand, a nice big lagoon to cruise around in can be a good thing. As CastawayGR noted on the Trip Advisor Forum post "Looking for the perfect turquoise lagoon in Maldives" –
"I was wondering if anyone can help me find an island surrounded by the best turquoise lagoon…What I am looking for is a really small almost desert romantic getaway with white beaches and turquoise water for as far as my eyes can see."
And Suzan3 echoed in the post "Biggest Lagoons" –
"You're after what I'm after, except I'm not a fan or snorkelling, nor am I of coral reefs. I want a resort that has crystal clear waters all round…"
Lagoons don't just have aesthetic appeal. They are great havens of aquarium-like snorkelling. Maybe not as dramatic as house reef drop-offs, but you still see a variety of small fish especially in scattered coral droppings as well as the occasional ray stirring up the sand looking for food and the ubiquitous mini reef sharks. Great for young kids to explore snorkelling for the first time. It was also a great way for my 80 year old mother-in-law to feel comfortable enough to try snorkelling (even though she was in 2 feet of water, she still had a life jacket on, a floatation noodle and my wife standing at her side to help her – see photo below). But she loved seeing the smattering of colourful tropical fish that scampered by her.
In theta posts, a few suggestions were offered for the biggest lagoon and I had some of my own guesses. But for something so common in the Maldives, I had to turn to the real expert, Seven Holiday's Adrian Neville. He took time out from writing his latest update to his essential guide "Resorts of the Maldives" to pen the follow guest post for me which is a veritable 'Lagoon Guide' for the biggest and bluest in the Maldives…
"First of all, we need to be a bit clearer about what constitutes 'biggest'. Let's assume that we are looking at the total area of the lagoon – the length and the width. We are not looking at 'volume' as we are looking for shallow lagoons rather than deep ones. You can look for the biggest lagoon with a single resort in, but that's a bit precious. As long as the next resort island is not too near, I'd say you're going to be happy. (And of the ones below, only Fun Island and Olhuveli are way too close. Though Reethi Rah is a touch too close to Summer Island for a Six Star, as Four Seasons Kuda Huraa is to Huraa, the inhabited island)…
Velassaru

[ed. one of my nominees] does have a large and attractive lagoon 7 kms long, but just across the atoll is Taj Exotica…

Taj Exotica

has a lagoon that is twice the length at 14 kms.

Meeru

has a 14 kms lagoon which is also wide on one side.

Reethi Rah

[ed. a lagoon cited in the TA post], I must say, is a non-starter. The length of the lagoon is 5 kms and little in the way of width.

LUX*

(formerly Diva) has a length of 11 kms and is wide to one end.

Gangehi's

is 9kms long and wide too.

Kuramathi

has a curving lagoon of 18kms length and looking into the interior of Rasdhoo Atoll it is shallow for much of the area.

Sun Island

and

Holiday Island

share a lagoon 18 kms long.

Fun Island

,

Olhuveli

and

Rihiveli

share a lagoon some 20kms in length.

Amari Addu

sits in a lagoon that bends 20kms around the NE corner of Addu Atoll at the southernmost end of the country.

Equator Village

is at the tip of the 25 kms lagoon that runs up to Hithadu.

Chaaya Lagoon Hakuraa Huraa

has the biggest lagoon I measured. It was 33kms in Meemu Atoll. It is also wide and shallow around those two resorts. (3 more resorts are planned further down the lagoon).
Those are the current active resorts, but there are some notables to mention of resorts not on line…
The proposed resort on Maafushi island in Dhaalu sits in a 26kms lagoon.
The two proposed resorts just off the end of Gan island in Laamu share a 30kms long lagoon.
If Hudhufushi ever gets finished, in the relatively northern atoll of Llaviyani, it will have a lagoon of 32kms length and a wide, shallow area adjacent.
And finally. It's notable that it is the southern atolls where the lagoons are large. In the north, the atolls are more 'split up'. The country actually slopes in height from the north down to the south, so the northern islands are as it were propped higher and so the large lagoons have not formed or have worn away. Well, that was fun and diverting. I'm not quite up to drawing a definitive conclusion though."
While Adrian won't claim it definitive, I'll go with his call Chaaya Lagoon Hakuraa Hura.