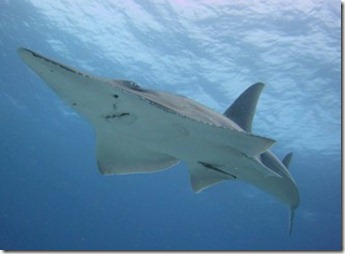 "Swimming in, lord, the deep blue sea. I'd have a, all you pretty women, fishin' after me."
Jimi Hendrix would have been 70 today. And I'm sure that he would be riffing today. Often considered the greatest guitarist of all time, today's post pays tribute with a similarly rare, striking individual in the Maldives waters – the Guitar Fish.
I was first alerted to these allusive critters during our visit by the W Retreat divemaster Hamid who told me about seeing them regularly. Hamid's successor, Tessa Van Den Abbeele, added the following when I contacted her…
"Out of experience from being in the Maldives for a few years the Guitar fish is a spectacular specie to see but not often spotted, but said that we have encountered 3 guitar fishes together a few times around the house reef of W Retreat & Spa. Other sites we have seen them is Maaye Thila, Fish Head and Himendhoo thila. The guitarfish are a family, Rhinobatidae, of rays. The guitarfish are known for an elongated body with a flattened head and trunk and small ray like wings. The combined range of the various species is tropical, subtropical and temperate waters worldwide. They often travel in large schools. Guitarfish's have a body form intermediate between those of sharks and rays. The tail has a typical shark-like form, but in many species the head has a triangular, or shovel-like shape, rather than the disc-shape formed by fusion with the pectoral fin found in other ray. The animal looks like a mix between shark and ray, they are often confused with sharks, especially when seen underwater for the first time. Maldivian fisherman for example simply refer to them as sharks. The largest can reach a length of over 3 meters. Guitarfish or most often seen while resting on the sandy bottoms in the vicinity of coral reefs. The mode of reproduction of all the family members is ovoviviparous (yolk sac viviparity) They swim in a shark like manner with lateral strokes of the tail and caudal fin not by undulating their pectoral fins like most rays do."
It seems particularly a propos that a resort so imbued with music (and innovative music at that) would have such a captivating creature frequenting its reef.
PS. Joke for the kids…What do guitar fish perform? Guitar reefs?