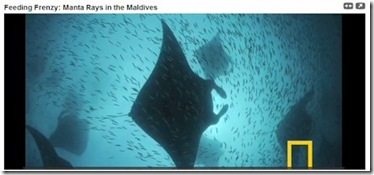 Possibly one of the most placidly dramatic aquatic encounters in the Maldives is the graceful and commanding creature Manta Ray. Quite prevalent across most of the Maldives, we have seen them a number of times from shore. In fact, Conrad Hilton Rangali had a regular manta visitor who came every evening like clockwork to feed on the small sea life attracted by the lights of the dock. The resort guests would go down to watch the balletic display of this spaceship-like fish doing loop-the-loops underwater scooping up big mouthfuls (see picture below we snapped).
The YouTube clip above is from a National Geographic piece on Mantas in the Maldives which has great pictures and commentary. It provides good tips on 'when' to see Mantas (and other large pelagics like Whale Sharks). Unfortunately, the 'best' time for pelagic is the 'worst' time for weather, ie. the monsoon season. The seasonal rains spur the growth of the microscopic food on which these filter feeds feast.
The top spot for Mantas is the eponymous 'Manta Point' (see dive chart below) near The Haven resort. Tim Godfrey's 'Dive Maldives' book describes,
"Manta Point has a world-wide reputation as being one of the most consistent sites for attracting large numbers of manta ray…In eight metres of water on the south east corner of Lanaknfinolhu reef are several large coral rocks which mark the point where mantas converge during the south-west monsoon season. Mantas have been photographed here as early as April and as late as December. These rocks are one giant cleaner station for the mantas. Blue-streak cleaner wrasse, Labroides dimidiatus, often working in pairs, can be observed swimming out to the hovering mantas to remove old skin and parasites. The mantas circle the rocks awaiting their turn to be cleaned and when finished they swim gracefully up and down the reef feeding on zooplankton in the shallow water."
If you can't make it to Manta Point, but still want to regale in a spectacular show of these majestic creatures in the Maldives, MaldivesComplete has the scoop that BBC2 will broadcast 'Andrea: Queen of Mantas' on Wednesday 11 November 8 pm (if you do not live in the UK, check out the BBC iPlayer website to see if and when the programme will be broadcast over the Internet which many of their shows are now).
"Andrea: Queen of the Mantas tracks student

Andrea Marshall

over the course of a year as she dives the Indian Ocean unlocking secrets about the manta ray – a balletic cousin to the shark, with 'wings' which can span 7 metres (20 ft) wide…[R]evelations in the film include…the first tv footage of around 150 mantas massing near the Maldives…[in conjunction with the show] an online campaign seeking better safeguards for sharks and mantas is being run by

The Save Our Seas Foundation

, a main sponsor of manta ray research in Mozambique and around the Maldives."