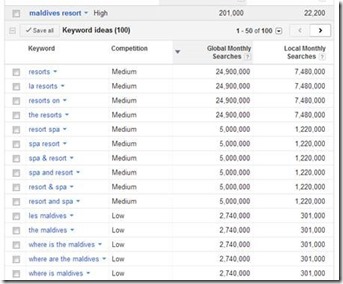 What is the most prominent thing people search for about the Maldives?
Google celebrates its sesquidecennial anniversary today (there's a sesquipedalian for you…If you don't know what it means, Google it). I've been doing some work to make Maldives Complete a bit easier for people to find using search engines like Google.  Part of that work has had been use Google's 'Keyword Tool' to get a better understanding of what are people looking for when they are searching about 'Maldives resorts'. The results were quite intriguing…
1. Resorts – Obviously, the "resorts" themselves.
2. Spas – A bit curious in that when we first started coming to the Maldives in the nineties, most resorts didn't even have spas. Maybe a few staff therapists on contracts. Now they are one of the top allures. Also and indication of the gentrification of the Maldives as a luxury destination.
3. Where they are – This was the one that surprised me. It seems that the Maldives' reputation proceeds itself. People have heard of the legendary Maldives so far and wide that many don't even know where they are. Part of this bias is due to the high portion of USA traffic on the web. Not only are Americans notoriously bad at geography, but the Maldives are literally on the opposite side of the world quite removed from their traditional tropical destinations like the Caribbean and South Pacific.