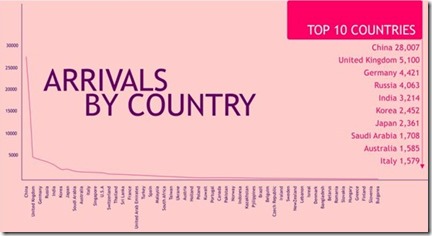 The international recipe of guests is reformulating from a European continental dish to a distinctly Asian fusion flair of late Switzerland has now dropped out of the Maldives "Arrivals by Country" top 10 leading a trend of Alpine Western countries (Switzerland, Italy, France) being supplanted by low lying Eastern countries (Saudi Arabia, Australia).
That's according to the latest stats from the Ministry of Tourism that they presented in a nifty Pinterest ("P-interest" or "Pin-terest"?) post last week.
The Western sun seekers are being supplanted by the Eastern luxury seekers.