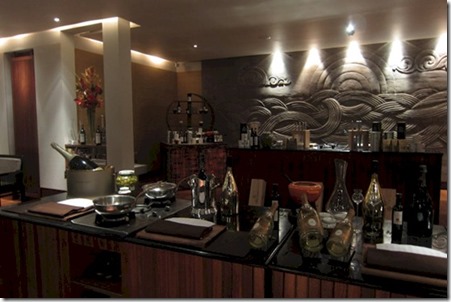 Eid Mub?rak!
Yesterday marks the end of the Ramandan and the start of the three celebration of Eid ul Fitr. After 40 days of fasting, you can imagine that the celebration at the end has quite a number of long-anticipated feasts.
If you want a bit of coaching help on creating the most sumptuous and resplendent feast, the One & Only Reethi Rah's Culinary School is where you need to enrol…
"Classes will be available in a range of culinary styles from around the world such as Maldivian, Chinese, Italian, Indian, Arabian, Japanese 'Washoku', Thai cuisine or French desserts and pastries. The experience starts with a guided visit to the chef's garden where the culinary team will demonstrate how to select the finest and freshest products while guests hand pick organic ingredients for their chosen course. Upon return to the culinary school, One&Only Reeti Rah's master chef will guide pupils through an epicurean selection of the finest cooking products and condiments from around the world including wines, vinegars, oils and olives. Then guests can prepare exquisite dishes with expert guidance and enjoy their own creations in a sumptuous lunch. They leave the course with a certificate, recipe card and their very own One&Only Reeti Rah apron and chef's cap. Courses cost run daily for between two to four people and cost $180* USD."
Lori and I visited it in July and it is a truly lavish set up in its own climate controlled area with access to the finest tools in a lovely surrounding. It has gorgeous bas-relief on the wall depicting an ocean sunset with a Mayan-esque boldness of form (see bottom).
Reethi even have a junior cadet offering as well (see below). With this post, I've added a new category tag to the blog for "Instruction" which has all of the posts on the best "Schools" and "Courses" that the various resort offer for those so academically minded.
All it takes is an "E" (Eid) to turn a "fast" into a "feast".