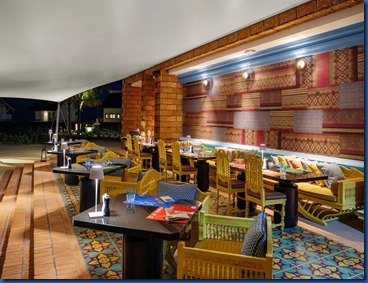 Two of the most popular tastes on the High Street – Thai and Italian – combined for a super fusion of flavours. Mr Tom Yam's at SAii Lagoon blends the exotic with the classic, the tropical with the Mediterranean, the Asian with the European. Some of our favourite dishes are Italian and Thai, so sampling them melded together was a special treat.
Sample dishes include:
Khaopad Hed Porcini: Italian mushrooms fried risotto, tomato, onion, kale, and cashew nuts with fried egg
Maplaow Goong Risotto: Spicy coconut risotto with lime shrimp, mushroom, tomato, lime leaves and galangal.
Baa Mee Noodles Moo Carbonara: Egg noodles stir fried with bacon and deep-fried pork, marinated in a dark sweet soy sauce, egg yolk, coriander leaves and parmesan cheese.
Piiza Tom Yam Tale: Mozarella, tomato sauce, tom yam stir fried assorted seafood, kaffir lime leaves, chili, cherry tomato and mushroom.
Pannacotta Kink Somo: Creamy ginger flan with pomelo.