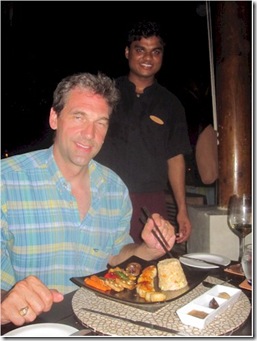 My fortnight tour of the Maldives identified 89 potential new 'Best of Maldives' features (to add to the 169 I have already posted and the further 94 that I have drafted in the wings). Over the upcoming fortnight, I will be featuring the first 'Best Of' pieces stemming from the trip. They might not be the biggest or most dramatic, just a sample of some my favourites.
Speaking of favourites, our favourite food of the trip was hands down the Italian-Fusion restaurant on Anantara Veli, Geckos. When I first was told about it, I was a bit sceptical. 'So what is it? Pizza and sushi? What's the fusion?' And it is indeed the 'fusion' that makes it special. Executive Sous-Chef Ken explained that they use indigenous ingredients from both Japanese and Italian cuisine and do indeed 'fuse' them into novel renditions of familiar dishes and styles.
Yes, they have Sushi Pizza (the sushi is put on after it's cooked and the pizza base is a thinner style). They have Italian pasta made with Japanese togorashi and nouri. Even the Italian garlic bread is accented with Japanese spices. I had the Teppanyaki pork on lemon grass and crab meat sauce which was stunning. The chef's specialty is 'Ebi Pizza' made with prawns, crab, dry roasted seaweed, Japanese spices, Mishima yaksri
Ken even offers the guest recipes of any of the dishes you crave (my wife wants the recipes for the 'Roasted sesame seed ice cream' and 'spiced salmon on Tagliatelle with wafu sauce').

'buon appetito' in Japanese