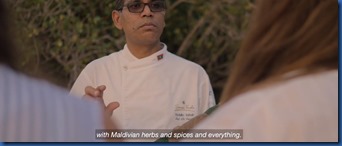 A fusion closer to the Maldivian home is Soneva Fushi's "Tastemaker" who combines Laccadive flavours with a range of Asian flavours drawn from his travels in the region:
"Maldivian born and bred, Chef Sobah is considered one of the pioneers of his islands' rich culinary heritage. As a child, his family's main source of income was from fishing, and he would help his parents sun-dry and smoke the daily catch. Today, Chef Sobah draws upon the traditional techniques of Maldivian cooking in his Soneva Fushi restaurant, Sobah's, the first restaurant in the Maldives to offer authentic Maldivian fare with a contemporary twist."
I've added a tag for "Fusion" with this post as so many of the top properties are distinguishing their fare with the flai of inventive combination.