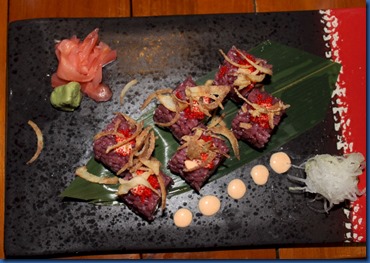 Fusion is a fun way to blend diverse flavours and culinary traditions for exciting new tastes, but LUX North Male Atoll's INTI restaurant is probably the most diverse combo we have come across – Japanese and Peruvian.
Before you think someone just threw a couple of darts at a map, it turns out that Japan and Peru have a longstanding cultural connection. Peru was the first Latin American country to have diplomatic relations with Japan in 1873. At the end of Peru's War of the Pacific in 1884, the Chinese worker population had been greatly reduced and there was big demand for farming labour. Then when the First Sino-Japanese War ended in 1895, the Japanese economy was crippled and young farmers started looking overseas for opportunities. Rumours of gold, mild climate, rich soil and similar seafood cuisine added to the allure and influx.
LUX describes the establishment: "Savour octopus with black olive mayo, Tiradito breads and smoky guacamole – or take in a five-course fresh fish Cerviche tasting. Sip on an iced Peruvian beer, warm sake or Pisco sour as the smells and sounds of Peru and Japan stir the sensory feast." We enjoyed a sumptuous meal which did meld the delicate traditions of Japanese sushi with bolder flavoured ingredients like the purple maki (see above).
The name "INTI" is the name of the Inca sun god. The décor of the dining area is a collection of suns – fusing the icon of sun god, "Land of the Rising Sun" and, of course, the Maldives' own sun-infused splendour (where modern day sun worshippers flock).