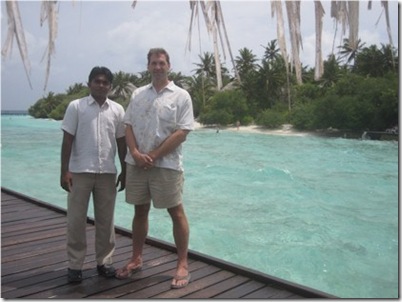 Adaaran Club Rannalhi lends a whole new perspective on the Maldivian resort.
Rannalhi is a smaller island. And when you can't expand out…expand up. In an country with an average elevation of a few metres and predominantly built up with thatched villas, Rannalhi is almost entirely 2 stories. All the beach villas are 2 story apartments. The spa, the reception and several new water villas are all two stories. It was refreshing to look out over the mottled blue seascape with a bit more of an aerial perspective.
Our penultimate day was a whirlwind of seeing two other Adaaran properties before our departure. We zipped down to Club Rannalhi for a tour by Front Office Manager Yaameen Abdul Rahman (see photo above), lunch and snorkel. And then back up to Vadoo for dinner and a night at their Prestige property.
Adrian Neville's seminal resort guide 'Resorts of the Maldives' clarified that Club Rannalhi is very popular with an Italian tour operator who runs a 'club' concept, but that the resort still maintains a strong international mix of clientele.
I felt that the resort would be good for a Maldives novice. It is small and so easy to learn your way around. I also found the posted guidance very transparent and helpful. They had a sign at reception clearly indicating how one could enjoy a night at the distinctive water villa for a $100/night upgrade supplement (a very reasonable price in my view). They also had all of the activities, excursion, events and special meals all clearly posted on a board by reception. In the past, I have struggled to suss out the lay of the land at resorts until I could get to the concierge desk to see the excursion schedule, go to the restaurants to see the special meal postings, and go to the orientation session to hear everything else. Within minutes of arrival I could see my options and possibilities right away.