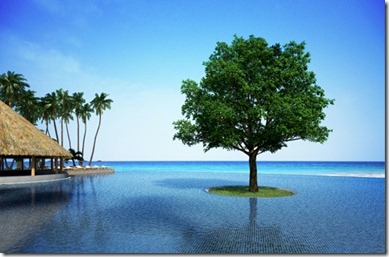 Welcome to the neighbourhood, Dusit Thani.
This week, Dusit Thani opens its doors to its first guests…
Their announcement highlights one of their first distinctions out of the blocks, their infinity pool…
"The resort's centrepiece is the expansive infinity swimming pool, the largest in the Maldives, a full 750 square metres designed around an ancient banyan tree."
There is a magical dimension to infiniti pools. The way they seamlessly insinuate themselves into the surrounding landscape. Our most memorable was the Filitheyo pool whose pool edge faces the west making for the most soothing dip at sunset pina coladas in hand. Dusit Thani's sheer scale amplifies that trompe de l'oeil and it's island banyan tree adds just that extra touch of magic.
One a side note, my heart goes out to all Maldivians facing this current unsettled period and my hope is that sensible minds and caring hearts prevail quickly.