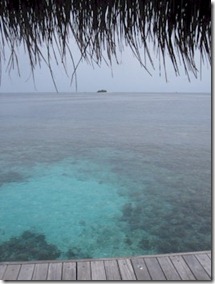 Sometimes you want the local island to be just that bit further away…especially if you are an open water swimmer.
Swimming in a lagoon is like have your own, gigantic, tropical fish stocked super-Olympic sized pool. In the morning, it is common to see a guest or two having an early swim to work off the pina coladas from the night before. But of course, you have the entire ocean at your disposal and some ocean-faring swimmers quite savour a broad expanse of open water. A good friend of mine travels across the world for ocean swims with a London group, Swim Trek.
The place to go in the Maldives for an open water swim holiday would the W Retreat. They have already sponsored several ocean swim events including one to ring in the New Year most recently (see poster below). The distance from the resort island to the neighboring deserted island is a marked mile (see photo above). And the route has relatively little current being within the atoll. After the swim, a boat picks them up for a more leisurely return segment.
Peter Foreman of the W describes…
"The swim is about 1.3KM (one way).  I don't know what that is in miles – sorry.  When we do the swim, it is always one way, we stop on the island and return by speed boat. We do not do this swim regularly for guests – we have always done it just for hotel staff.  On 30th December 2011, we did an event with guests – however, this was a pre-arranged fund raiser event [see flyer below].  So, we would not do this for a one on one swimmer – due to the number of our staff that would be required (doctor, support, etc).  If you had a group staying with us and they were keen on doing the swim, I am sure that we could put it together for them."