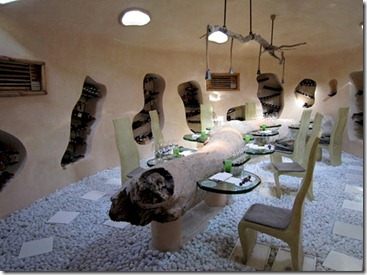 Happy Valentines Day!
A meal out in a romantic venue. A box of chocolates. How about a meal of chocolate?? In paradise.
Soneva Gili has an Underground Chocolate Cave.  A chocolate lair!
"Our unique underground wine cellar, showcasing more than six hundred varieties of wine from more than thirty regions around the world, has recently had a truly unique experience added. In addition to our artisanal cheese and deli room, you may now also experience our handmade, gourmet chocolate cave. Our Executive pastry chef has created a chocolate menu using only the finest chocolate, with some very interesting and unusual flavours… Have you ever tried liquid milk chocolate with earl grey tea and mango, or dark chocolate with chilli? What about chocolate truffles flavoured with coconut and coriander, passion fruit and caramel, orange and cardamom, to name but a few…?
A fuller list is provided below, but to extend taste sensations, Soneva Gili also couples bottled treats with the boxed ones…
"To further the experience even more, our Sommelier would be delighted to create a fantastic chocolate and wine pairing which may be enjoyed before or after dinner. Wine and chocolate are natural companions; they both have very complex flavours and matching these flavours is half the fun! 'Sip the wine, let it fill your mouth, note the wines complexity and which flavours come to mind. Now take a small bite of the chocolate, let it sit on your tongue, when it just begins to melt sip the wine again and swirl together with the chocolate.'"
For dark and bitter chocolate – Full bodied reds (eg. 2006 Shiraz Coriole, McLaran Vale, Australia, 2006 The Chocolate Block, Franschoek, South Africa0
For dark and bitter sweet chocolate – Sweet fortified (eg. Starboard Batch 88, Quady's, Madera, California USA, Pedro Ximénez, San Emilio, Lustau, Andalusia, Spain)
For milk chocolate – Lighter, fresher (eg. 2007 Viognier, Kumkani, Stellenbosch, South Africa)
A sample of the confections includes…
Sambuca chocolate

Lemongrass chocolate

Passion fruit caramel

Coconut coriander

Fennel seed chocolate

Mango ginger

Malibu chocolate

Cardamom chocolate

Cinnamon apple

Irish coffee

Orange chocolate

Green tea chocolate

Whisky caramel

Star anise

Yoghurt lassi

Chilli chocolate

Mint chocolate

Hazelnut chocolate

Roasted almond

Rum & raisin

Calvados chocolate

Olive oil chocolate

Goats cheese

Salted caramel
Travelscore Magazine's blog has a great comprehensive review of the place (where the pictures are from).