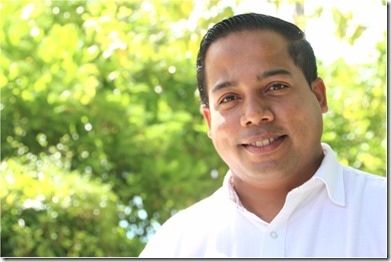 May Day today is a time to celebrate the workers of the world and their contributions to society. A fine time to commend LUX South Ari Atoll and their work every day of the year to enhance the work and personal lives of the staff as recognized with the recent commendation of their Director of Training, Development and Quality Assurance…
"The resort is proud to share that Director of Training, Development and Quality Assurance, Mr. Hussein Afeef has been recognized as one of the '100 most influential Global HR Professionals' at the 3rd Global Training Conference which was held in Mumbai, India on February 15 2016. On the same day Afeef was also awarded with the 'Global Training and Development Leadership Award' handed over by one of the founders of World HRD Congress 2016, Dr. R. L. Bhatia."
Actually, I find pretty much most of the resorts to have a very staff-centric ethos which makes sense as their entire business is about people. That is, Maldivian people hosting people from around the world to share a bit of their paradise. Maldives Complete was able to secure an interview with Hussein Afeef to get a more in depth look at his award-winning perspectives…
• What was your education?
I completed a Bachelors Degree in Hospitality Management in Malaysia and Masters of Business Administration in British School of Commerce awarded by London School of Commerce. PHD research is set to start from June 2016.
• What was your first job at a resort?
My first job at Resort was HR Administration for three resorts Bandos Island Resorts, Four Seasons and Cocoa Island-based mainly at Male' and often visited all three resorts. I also had three internships at Bangkok, Singapore, and Malaysia before taking a full-time resort based role at One&Only Reethi Rah.
• What is one of the most common intra-staff conflicts and how do your resolve it?
The biggest challenge we face is miscommunication and cultural diversity understandings within colleagues. However we have learned over the years, the success and best way to resolve it to provide enough service and culture related education to Team Members and to create transparency between all departments and Team Members especially when it comes to sharing information.
• What is one of the most common staff personal issues and how do your support them to resolve it?
Mostly conflicts between Team Members around taking personal responsibility for getting things done. Here at LUX* we have created a service culture that empowers Team Members to be proactive and take personal responsibility. Therefore, I don't see such an issue right now at our work environment.
• What skill set is the hardest to find?
Good Leadership skills and how to be great leaders. Time Management, being a constant role model, sharing and living by positive attitudes are some of the hardest soft skills to find within Team Members. That's why we continually educate and teach our colleagues and results has been fantastic.
• What has been the most popular training you have provided?
Service Culture Programs designed by UP Your Service, FISH! Philosophy, Leadership Programs from John Maxwell are some of the most popular programs are deliver and customize to our Team needs.
• What is the least popular training (e.g., difficulty, tedium)?
To be honest, I don't have a particular topic like that. It depends on the trainer, even Health, and Safety, Fire Awareness or Hygiene training sessions are popular here as we try our best to bring the best-outsourced instructors. When teachers are incredible, regardless of the topic, course will be well received by Team Members
• Have you introduced any policies that provide greater flexibility for the staff and how they do their jobs?
We have many policies and procedures that assist our Team Members do to and deliver what they do best. Our Managers are regularly coached regarding empowerment and flexibility of work, thus same filters through all levels.
• What is the most popular perk to being on staff at LUX South Ari Atoll?
Regular welfare and employee relation activities, Competitive Compensation package in terms of monetary value, world-class training and development programs, opportunities and Team Members being able to have their freedom at work and are open to creativity and innovative ideas. I consider these as benefits that other organizations may lack.