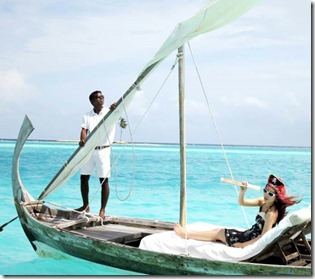 What's a pirate's fashion nightmare?
A sunken chest with no booty.
Today's "Speak Like a Pirate Day" illustration carries on the Fashion Week theme with Japan's La Carmina (featured in yesterday's post). Her own posts from Gili Lankanfushi also included the swashbuckling gem above.
I always do a post on this special occasion. The exotic and remote Maldives isles evoke so many images of pirate treasure islands. We used to hold treasure hunts for our kids when they were younger (and now many resorts offer this activity themselves). As it happens, La Carmina is channeling our kids a bit – our daughter Isley was the pirate princess in her Leaver's Day parade, and our son is himself an aficionado and chronicler of Japanese culture.
Well, blow me down!