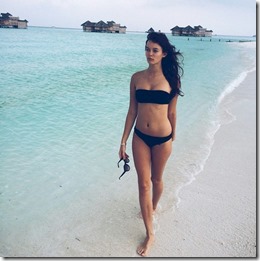 London Fashion Week comes to a close today wrapping up a glimpse of the eye-catching styles in the season ahead. And here too at Maldives Complete, I've shared just a small sample of the beach beauties collected as a part of the Fashion Week research. Overall, I've found nearly 200 photoshoot subjects over the past month with the help of the resorts themselves as well as my many website supporters (and more keeping coming in every day now).
I'm also a big database guy. Structured information allows for dissection and interrogation. So in addition to the Resort Room Type and Dive Site databases, I have now started a "Beauty" database with over 200 entries. Details on not just the names, provenance and resort of the highest profile and most dazzling photo shoot subjects, but also information about their Wikipedia, Facebook, Instagram and Twitter profiles. It all makes for some intriguing analysis which I will be sharing in the coming months.
I also categorised the subjects by "profession". Most were "Models" (obviously for photoshoots), but others we other celebrities…
Model – 128

Blogger – 39

Actress – 28

Athlete – 12

Singer – 5
The professions a bit of an arbitrary distinction as oftentimes prominent Athletes become Models, Models become Actresses, Actresses become Bloggers, and so on. I have a few examples where the person has all five listed in their biography.
I was struck by the prominence of the "Fashion Blogger". I had no idea there were so many out there. I had no idea they were so popular (judging by their social media numbers). You obviously need to have a little something to say to be a fashion blogger. But the two primary prerequisites seem to be (a) you need to be female (I did not come across a single male fashion blogger), and (b) you need to be attractive (I did not come across a singe fashion blogger where I thought, "well, her readers must be following her for her writing skills…").
Knowing the resorts of the shoot and the names, my first step today was to add a picture to the standard Resort Profile of a featured photoshoot beauty (bottom right-hand corner). Of the 121 active resorts, I have at least one fashion shoot example for 73 of them.
A few highlight stats to mark the end of #LFW2015. The top of the league table is Gili Lankanfushi. Gili benefits from their hosting the Kingfisher Calendar shoots which brought a fair number of models to its beaches. But its popularity extends to all sorts including this week's "Pirate Model", La Carmina.
The UK led the country league table which is probably a function of the destination's popularity among press. One of the major tabloids, The Daily Mail, runs a regular feature on celebrity holidays and regularly sends big names to various resorts in the Maldives.
The two models featured today showcase the top two resorts (Gili Lankanfushi and LUX Maldives) and the top two countries (UK and Russia) though in swapped orders (I couldn't find examples of UK models at Gili and vice versa.
Resort League Table
Gili Lankanfushi – 12

LUX Maldives – 7

Per Aquum NIYAMA – 6

Velassaru – 6

Anantara Veli – 6

Taj Exotica – 5

Huvafenfushi – 5

Paradise Island 4

Sun Siyam Irufushi – 4

Four Seasons Kuda Huraa – 4
Country League Table
United Kingdom – 22

Russia – 16

India – 14

Australia – 14

USA – 13

South Africa – 12

Ukraine -6

South Korea – 5

Italy – 5

Denmark – 4