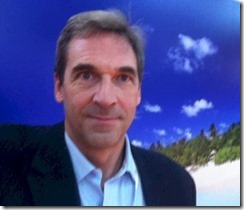 The World Travel Market is my annual Maldives "meet-up" to take me out of the digital domain and spend some face time with resort folks. Surrounded by the towering graphics of the Maldives Marketing Public Relations and Marketing Corporation's stand, it is a tangible and live escape from the onslaught of dreary British winter.
Resort Changes – The show is always useful for me to find out more about the newer properties both recently launched and upcoming. I got to meet with such fledglings as Atmosphere Kanifushi, Amari Havodda, Cinnamon, Canareef, Outrigger Konotta, Amilla Fushi and Hurawalhi.  I also chatted with old friends. Some have moved to new properties (like Thanos Lionsatos from Dusit to Banyan Tree or Zafer Agacan from Ayada to Amari). Some shared with me their expansion plans for upcoming new developments (eg. Centara has 5! properties in the works).
Marketing Changes – The other trend I noticed among the marketeers converging on ExCel, was the surge in interest in "blogging" (ie.  YouTuber vlogs, Instagram, lifestyle blogs).  As I noted in my "beauty of the Maldives" research, the photogenic young women writing and snapping colourfully about food, fashion and flying around the world is surging in both numbers and readership.  I even met one who had stopped by the Maldives stand (Alina Lisina of Trip Temptations).
Of course, the buzz around the booth was the recently declared "30 day state of emergency" which has spooked lots of prospective guests. All world travellers, especially to remote and exotic destinations, always need to be vigilant about all sorts of security and safety issues. But I feel quite strongly that this declaration does not indicate any substantive danger to any guests. It seems more akin to the "Patriot Act" the USA enacted as a way to exercise more security controls and checks (eg. like airport security).