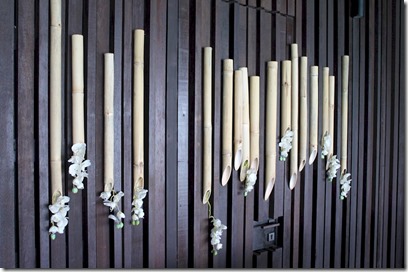 QI Time…
Question – What type of plant does bamboo come from?
Answer – Tree?
Buzzzzzzz…wrong.
Actually bamboo is a "grass".
Question – How often does a bamboo plant flower?
Answer – Once a year?
Buzzzzzz…wrong.
Actually, a bamboo plant will only flower once in 65 to up to 120 years. And for good reason because once it has flowered, it then dies. Botanists don't really know why it does this though it has a few thoeries including stabilizing selection, predator satiation and the fire cycle hypothesis.

And that's just a few of the "Quite Interesting" aspects to Bambusoideae. Many of which will be discussed at the The World Bamboo Congress which convened today in Damyang, Korea (here's the link if by now you think I'm just making stuff up). For example…
Strength – The tensile strength of plated bamboo cables is as strong as or stronger than a steel cable of the same size. Hemp rope loses 20% of its strength when wet while bamboo cables increase in strength by as much as 20% when wet.
Sustainability – It grows easily and cheaply (again, think "lawn of grass", not "forest of tress") so it easily regenerated. An acre of bamboo can sequester about 25 metric tonnes of carbon from the atmosphere per year (better in bamboo than in the oceans acidifying them and hurting the coral reefs).
Inspiration – The ancient bamboo toy called the "dragon fly" is the origin of the modern helicopter.
(thanks to MidAtlantic Bamboo for their fine page of fun facts about bamboo)
If you want to get into the expert level topics, here are few of the papers being presented this week…
"Bamboo: The Secret Weapon in Forest and Landscape Restoration"
"Bamboo Carbon Potential for Mitigating Climate Change"
"The Ghana Bamboo Bicycle Initiative"
"Bambusa: pioneering Latin America's first craft beer made out of bamboo"
Yes, Bamboo Beer! We actually have a bamboo wood floor in our own bathroom (not round tubes of you are used to seeing, but a flat veneer sheared from the "logs" horizontally).  In fact, I even wear underwear made out of bamboo (still not making this stuff up…BAM")!
No resort exploits the versatility of bamboo more than Velaa where it is a thematic element to all their design. It is used extensively as both a building material and a decoration. I've included photos of a few examples here from the practical (fence below) to the ornate (flower wall scone above).
Bamboozling!