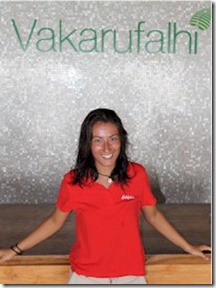 No matter how good you are at something, a local expert and guide is always a sound move.
My wife and I do most of our skiing (I snow board) with our best friends who happened to meet as ski instructors. We tag along to which ever of their favourite European slopes catches their fancy this season. Having such experts along transforms the experience. The stress is halved and the excitement is doubled. The stress is cut because you don't have to worry about getting lost, or going somewhere over your capability. The excitement is doubled because they introduce you to places literally of the beaten path and point out things that you probably would have missed focusing on where you were going.
Those same slope benefits are the reason to grab a snorkel guide at a resort whenever you have the opportunity. My wife and I are advanced divers and have snorkelled over 100 times, but we still benefit from having a local expert show us around. In and among all those guided outings, the guides have all been superb. But we have never come across a guide quite so enthusiastic and proactive as Tania Gae Militello, the marine biologist at Vakaufalhi.
The fact that she holds daily routine guided excursions on the house reef is a key and relatively uncommon at resorts. Other resorts either have the marine biologist on demand or else they have periodic guided excursions. Her regular excursions mean that you can simply work it into your daily routine. You don't have to feel self-conscious about asking for a guide as she is going anyway. She will also do special excursions to suit you for free as well (schedule permitting).
We took advantage of this ad hoc offer to do a sunrise snorkel (on the wise advice of TripAdvisor Destination Expert ActiveGirl) where we saw tons of sights. Lots of stuff we would have missed if it wasn't for her trained eye as well as knowledge of the local seascape and knowing where the interesting critters tend to congregate.
One of the best examples is a loggerhead sea turtle named Camilla. She has a favourite resting space on the house reef drop-off ledge about 3 metres deep. Tania showed her to us. More importantly, without any provocation or disturbing her, Camilla popped out and came for a swim with our group when she saw that Tania had arrived. Camilla seemed to recognize Tania and seemed very comfortable around her (no, Camilla does not do any feeding of marine life whatsoever). As close to a guaranteed turtle sighting as you wil get.
As I mentioned at the top, a guide also allows you to push yourself further than you might. When we did our morning snorkel, Tania took us around the further house reef side…and a storm squall came in about 30 minutes into our venture. Normally, I would have been quite spooked being a good distance from shore with a dark, windy sky. But, Tania knew that we were strong swimmers and we were going with the current towards the jetty and reassured us that everything would be fine. When the squall (aka mini-monsoon) hit us, aside from some swells in the ocean and the tickle of rain on our back, the snorkel was as delightful as any. As a result, we were rewarded with some memorable sights we would have missed without her support.
She also took a number of videos and pictures on both of outings with us and loaded them onto a USB stick for us so we could have them.
Tania is passionate not just about the undersea world, but also about the snorkelling itself and makes it even more accessible and thrilling at Vakarufalhi.