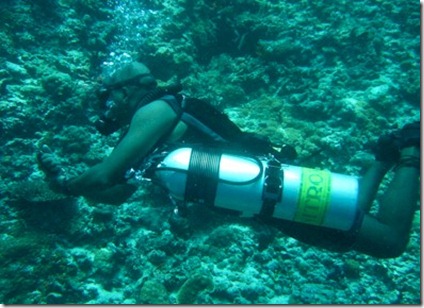 "Bruce, you might want to try this." That's how Lori greeted me when I met up with her after her dive at Vilamendhoo after seeing side mount diving for the first time.
Side mount diving has a number of advantages for certain situations. It is very popular with cave divers for whom the tank can get in the way of narrow passages. But also, the configuration more easily allows for double tanking for people who want very long dives. It can also be advantageous for divers with back problems especially maneuvering out of water.
The configuration requires special skills training both in the equipment and in diving itself. My wife Lori went on a dive with the Euro Divers dive master Hussein Ali who is a certified instructor in side mount. He teaches the PADI course offered there ($229 for course and $80 for certification) and the resort offers the equipment for guests interested in this unconventional approach
Tanks a lot!