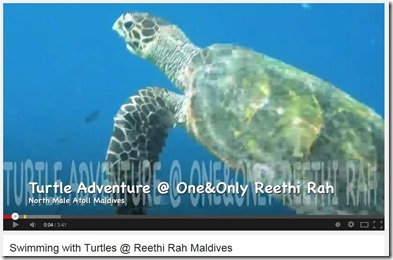 One of the new items on House Reef profiles is the "Resident" field. This notes if there is a particular creature who is regularly found on the house reef and who can be distinctly identified. The first "Resident" I met in the Maldives was "Camilla", a turtle on the Vakarufalhi house reef.
Turtles are quite readily identifiable by their shell markings which has allowed a few marine biologists to take Snorkel Spotting to a whole new level. The most spottable grounds might just be the eponymous "Turtle Reef" in the North Male atoll. This terrapin terroir is closest to the Makanudhu resort, but the the nearby One & Only Reethi Rah really gives the excursion the first class treatment (see video link above). Reports Reethi's Scott Le Roi…
"Turtle reef is where we go for the Turtle Adventure trip (every Tuesday, Thursday and Sunday). It is one of the most popular reefs we go to. The reef is next to Makundhoo resort, which is about a 25 minute dhoni ride or about 7 minutes in a speedboat from our resort. We take lots of private trips there as well and the dive centre also do there evening snorkel there on Mondays, Wednesdays and Fridays. It's a hawksbill turtle feeding ground so there is always a good chance of seeing lots of turtles there. The most I have seen in one snorkel is 23! The turtles here are pretty relaxed. As it is their home territory, they don't feel threatened by people, so our guests can have a really amazing encounter with them; Swimming alongside them or turtles coming up to breathe right in front of them! It is also a very beautiful reef. Nice corals and fish life, sometimes sharks and eagle rays."
In the spirit of Snorkel Spotter, the Reethi Rah marine biologist also runs a spotting program (see pictures below)…
"Since February 2012 our resident Marine Biologist has been identifying the different turtles seen during the Turtle Adventure Snorkel at both Turtle Reef and West Point Reef. Every turtle has a unique scale pattern on each side of the head which it can be identified by. Photographed turtles are uploaded into a photo identification database to try to establish their population size, foraging sites and migration patterns. So far over 100 different Hawksbill turtles (Eretmochelys imbricata) have been identified at Turtle Reef and over 40 at West Point Reef. Many of these turtles are common residents of the reef and can be seen regularly."
For people interesting in "Turtle Spotting" across the Maldives, the Four Seasons Marine Savers' Turtle ID Project takes this ID programme to Maldives-wide level.