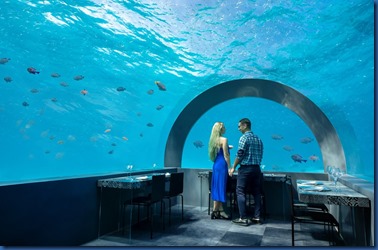 All underwater restaurants are stunning experiences, but they often come at an equally eye-watering expense. For starters, most are found at super-premium resorts that start at $1000/night. Then, enjoying the restaurant is an equally premium supplement to your already hefty holiday bill. When we visited You & Me, we were struck by how many luxury details the resort featured while its price was a relatively manageable by mere mortals. No part of the property more exemplified this reasonably priced luxury than their H20 underwater restaurant.
"Six-metres underwater, almost half a kilometre away from the pearly shores of our island is our greatest gift – H2O, the world's best underwater restaurant, conceived by world-renowned designer Daniele Lago. With room for twenty-six guests, H2O's seventy-four feet acrylic glass exterior is made to mesmerise. Nestled in a lush coral garden six metres below the sea this enchanting restaurant draws all manner of marine life to delight viewers."
The first feature makes the restaurant truly accessible in the literal sense – a lift. For anyone who might have difficulty with the circular stairway descending into the depths of the resort's lagoon, they have the option of taking the restaurant's lift. Rare enough in Maldives resorts in general (I only recall seeing one at Velaa),
But the "accessibility" that benefits most of us is H2O's relatively affordable price. I sort of hesitate to call out H20s "affordability" as its defining characteristic. The description might come across as a low-end version when it is absolutely anything but that. The dinner was sumptuously gourmet quality with a full menu of choice delicacies (see photo below). As our tour report made clear, we were utterly enchanted by our evening there (with the mesmerizing dinner show by the resident octopus).
The facility itself stands shoulder-to-shoulder with all of the other Maldives underwater restaurants at the super deluxe properties. In fact, its semi-circle fully glass arch is the state-of-the in these underwater rooms with only Hurawalhi and Rangalhi sharing this totally immersive submersion. The restaurant also includes some special aspects which make it distinctive in its own right – a reef restoration collaboration, a meteorological station, maybe the most unusual ingredient I have ever had in a meal anywhere not just the Maldives (stay tuned).
But if there is one aspect which will have the most impact on the most people it will be its quite reasonable price. I have simply met too many people who passed up the chance to experience this bucket list activity at other resorts because the price was too dear. To save money, they go in and have a glance and take a few selfies, but that is not even a fraction of the joy and adventure of spending a few hours under the ocean enjoying the toings and froings of the sea creatures like you were some sort of fellow resident. The big advantage of diving over snorkelling is that you get to linger underwater and see the creatures at their level (rather than just looking down on them). But even with diving you are limited to 60 minutes (not to mention all the faff and expense). At H20 you get to savour hours of undersea loitering. And all the while, lingering over delectable dishes and sipping fine wines or decadent cocktails as bonus treats to the experience.
The prices are $280 per person for dinner and $180 per person for lunch (we definitely recommend the dinner as you get to experience the transition from day to night of the aquatic world). It's not cheap, but it's considerably less expensive than the other alternatives in the Maldives. And remember, it's not just a meal. It is a unique experience of a lifetime that includes and is accented by a meal.
H20 is the underwater restaurant by You & Me and the rest of us.