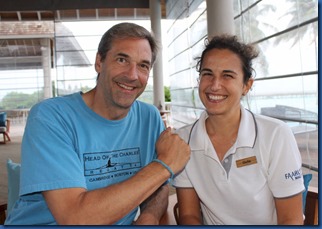 Not just a "Best of the Maldives", but possibly the Best of the Best from the 2019 Tour, or at least the most enduring, as both Lori and I are still wearing ours back in Blighty – Ghost Net Bracelets. Faarufushi's Marin Biologist Giulia Pellizzato working on retrieving "Ghost Nets" – fishing nets that have gotten snarled or caught up and so the fishermen just abandon them in the water where they continue to trap and kill sea creatures.
The nets themselves are made of nylon and so Giulia wanted to come up with a way to upcycle them rather than have them add to the landfill of the Maldives. She decided to unravel the strands of plastic twine that they were made of, and use that material to make some woven bracelets. The process is a bit labour intensive so she has a small stock now. She gives them out as a reward to guests who help her with her reef survey work on the island.
The blue and green of the material, coloured that way by design to blend into the ocean when fishing and not scare away the fish, evoke the tapestry of colour which makes up the Maldivian seascape. I'm not a big accessory person, but there is something heart-warming about wearing something that was removed from the Laccadive Sea and is now on my wrist rather than snaring turtles, dolphins and other tragically unfortunate ocean friends.