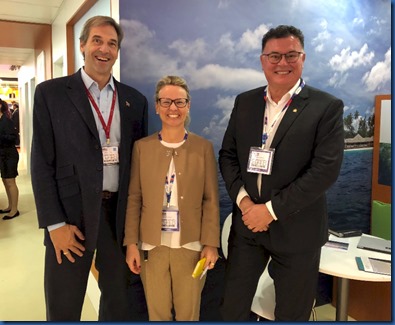 Maldives Complete made it to yet another World Travel Market at the Excel Centre in London this week. Maldives resorts, agents, cruises and promoters were there in force. With all the giant, illuminated backdrop tableaus, it was the closest thing to a day visit to the Maldives on a November day in London.
I got a chance to catch up with long-time friends and associates like Barefoot Resort Marketing Director Raffaella Colleoni and Grand Park Kodhipparu General Manager Raffaele Solferino (please, Raffles Resort, hire these two executives!) – see above.
I also got an opportunity to meet some of the folks behind some of the newer properties – eg. Emerald, Carpe Diem, Kuredhivaru, Hard Rock, SAii Lagoon, Rahaa. Emerald in particular has some incredibly attractive pricing and may be doing some extra special offers at its launch. And Hard Rock with SAii Lagoon is going to be a real game-changer opening up entirely new ways of holidaying in the Maldives and experiencing this paradise.
The other revelation to me was the deals for some pretty swish cruising. ScubaSpa is a live-aboard-cum-spa on a luxury cruiser and gourmet meals for the price of a good 4+ star resort. You can choose any number of days that you want to travel to tailor the timings (and costs) to your preferences. And Carpe Diem has a deal of $1200 for a week on their yacht including meals and 3 dives each day. We've often considered doing a cruise. We've seen so many of the Maldives resorts, we thought it would be a great way to explore some of the deserted islands, remote lagoons and sand bars in the middle of the ocean. We've sailed in the Mediterranean and there is an adventurous charm to anchoring in some remote place with no civilisation in sight.