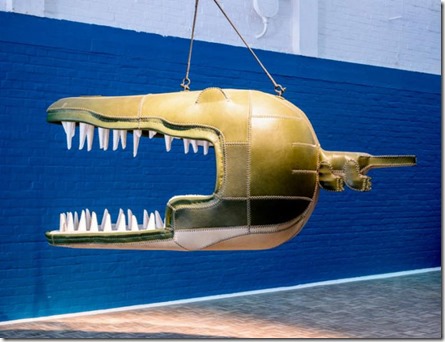 After 70+ resorts and nearly two decades of touring the Maldives, you would think that I had seen it all about now. And yet in my web and other worldly wanderings, I've still come across another couple dozen curiosities that that are just crying out for the right home in the Maldives…
1. Fish Hanging Chairs – The newer properties are getting more arty and edgy, and the hanging swing seat has long been a staple for relaxing in the ocean breezes. [ABOVE]
2. Corner-Turning Sliding Glass Doors – It's all about the scenery in the Maldives, and resorts are making villas more and more open to bring in the outdoors.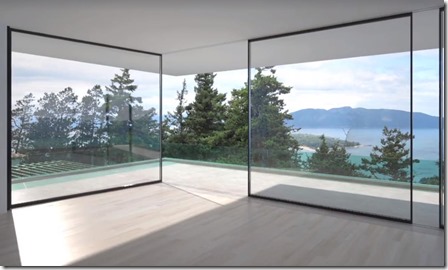 3. Shark Suit – Why put on a boring one-piece of the same geometric design that every Instagrammer in the world is wearing when you can wear this. Do just watch the shark…be the shark!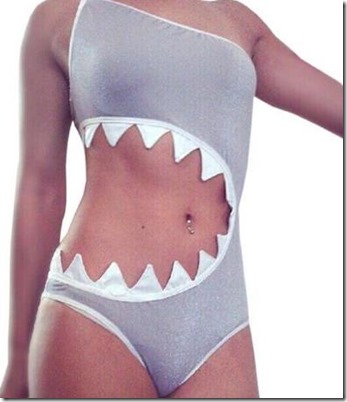 4. Fashion Fins – Just because…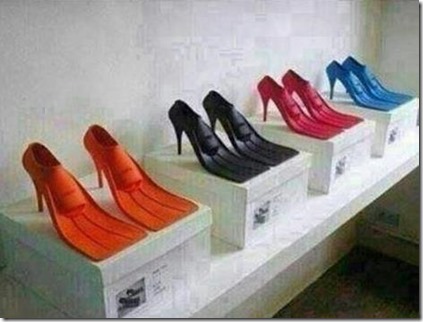 5. Bird's Eye Perspective Resort Map – A few resorts (eg. Anantara, Baros), have 3D(ish) aerial resort maps. Four Seasons has a birds eye perspective, but more cartoonish, than photorealistic. I would like to see one of these throw backs proper Victorian vintage maps.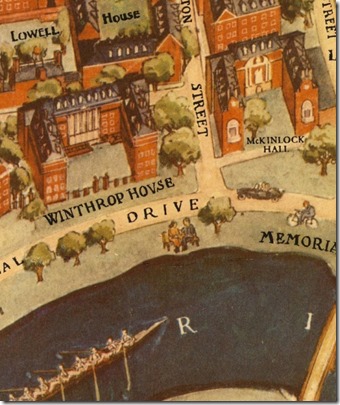 6. Hand-held Underwater Propulsion – A number of resorts have seabobs, but these toned down versions seem more appropriate for gentler exploration (thanks Momo).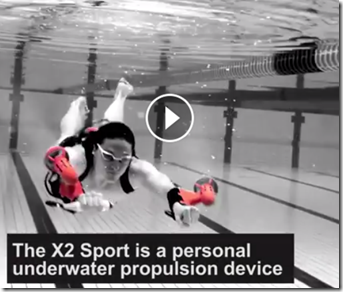 7. Underwater Drone – Another way to explore the reef without getting wet.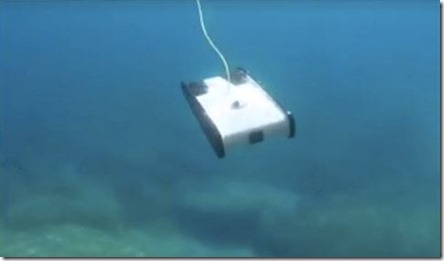 8. Underwater GeoCache – A few geocaches have hit the resorts islands, but the obvious fun is undersea.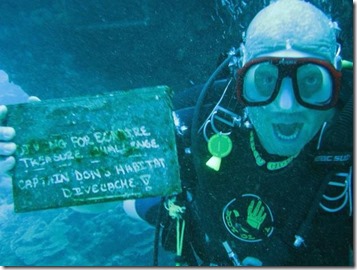 9. Underwater Yoga – I was going to do an April Fools post on this idea…until I found out it is no joke.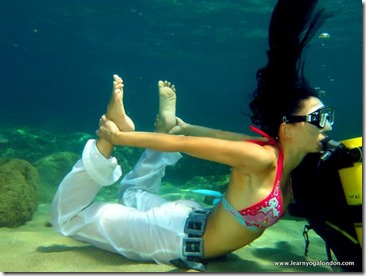 10. Pedal Board – Not a "paddle" board…"pedal" board.
11. Water Motorcycling – While the very notion will send the heebie-jeebies up the spine of most Maldives aficionados, in the spirit of "completeness" this couldn't go without a mention. Not too much different to a jet ski in noise and disruption, really. And with a number of adrenalin sports hitting the Maldives (eg. power boarding) and a number of Red Bull events, it's not so crazy a notion.

12. Aqua Lily Pad – On the completely opposite end of the spectrum, for the more sedentary…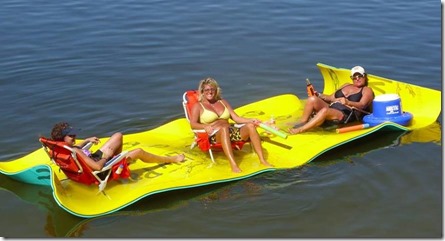 13. Activity Pinwheel – For the more indecisive. If even making a decision is too much of an effort on a Maldives holiday, I found this handy device in Copenhagen.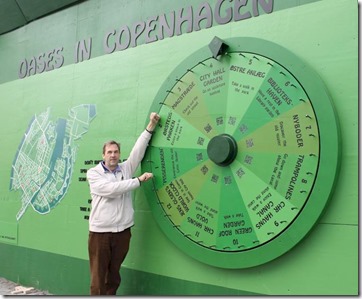 14. Hemp Milk – Hot new thing in the epicenter of global coffee culture (Seattle).

15. "Paradise Island" – Perfect toast to the "plot of sand with a palm tree" aesthetic that defines the Maldives.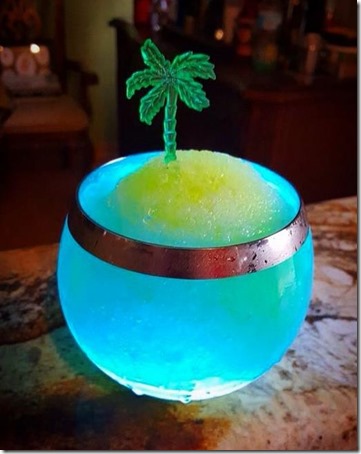 16. Ice Figurines – More fun with ice shapes.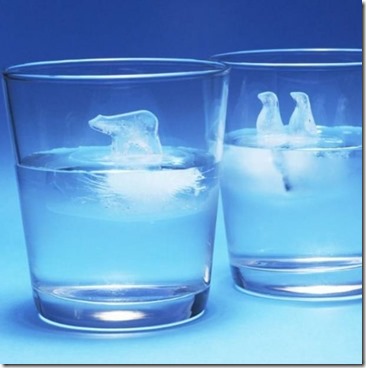 16. Chocolate Ball Reveal – For all of the glitzy gourmet presentations, nothing comes too close to this one.
17. Pineapple Lolly – Form and function in this fruit art.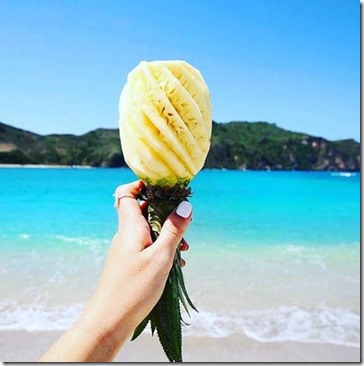 18. Yogurt Parfait Popsicles – And yet another option in the cold refreshment department with a bit of a healthy slant.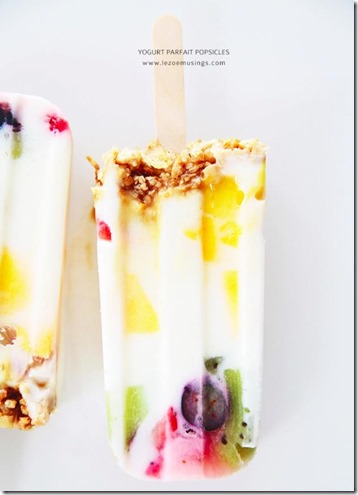 19. Cocktail Slushies – Or less healthy if you prefer…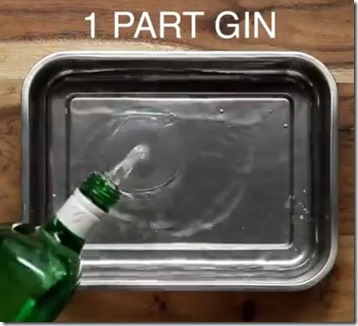 20. Ceiling Stars – While bed decorating gets more and more imaginative, how about a different surprise custom decoration for guests returning to their bedrooms? You turn out the lights and "Happy Honeymoon" is written in stars across the ceiling. Resorts can use light adhesive like blue tack to they are removable and reusable.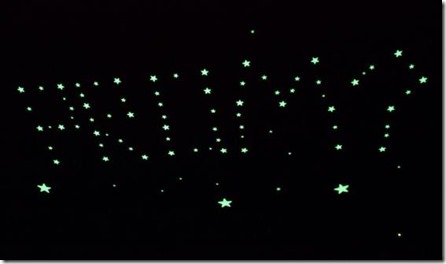 21. Wave Power Generator – Not so great for the inner atoll resorts that are shielded from such waves by the outer reefs, but an intriguing possibility for even more eco-sustainability in the outer atoll regions (thanks Paola).

22. Ocean-scraper – Okay, now I admit that we are getting silly.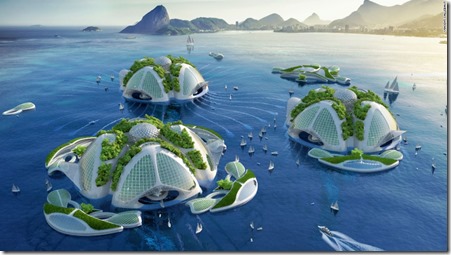 23. Underwater Police – Maybe this will deter the coral-standers and rogue fishermen (thanks again Paola).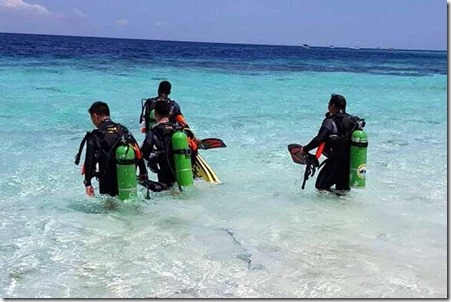 24. Mermaid School – Not a "school of mermaids", but "mermaid school". I've had "swim with a mermaid", but Sirenas Mediterranean Academy takes the aquatic dramatisation a step further.