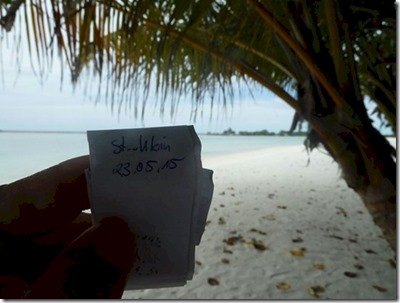 If you fancy a bit of personal archaeology into the Digital Age, then you can undertake your own digging about for a Maldives geocache.
Thulhgiri (that resort's first Best of the Maldives award) and Paradise Island are the two resorts which feature geochaches in the Maldives (there are 8 in total across the country). As the Paradise Island description says…
"If you are bored wink by snorkeling, diving, swimming, looking for fish, shells, sharks, manta's, crabs or just of relaxing and enjoying the beach and the sun, this box can be a little alteration."
Another "Finally Seen" (Not Yet Seen Part 8 – item #25). As I've mentioned so many times, the Maldives exudes a tropical paradise pirate treasure mystique. And so "treasure hunts" are particularly appropriate entertainment during a visit (so much so that with this post, I'm adding a category tag "Treasure"). We used to stage them for our kids, but with geocaching, all ages can join in the fun.