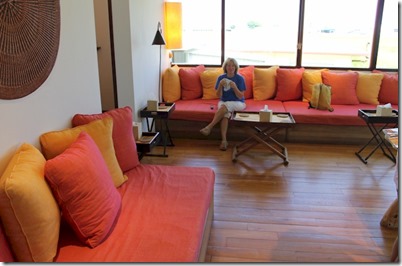 Most Maldives visitors coming from Europe have to take the red-eye overnight long haul flights. Unless you are reclined in First Class, these flights are exhausting and you often want to collapse when you arrive. If you have to then take a seaplane transfer you are often waiting a little while at the seaplane terminal. To take the sting out of these first moments in paradise, the luxury 5-star resorts have set up special welcome lounges with extra comforts and service.
But for sheer comfort, no lounge beat Soneva Fushi's. Not only are their settee colourful, but they a big and broad. One family that was there with us had their kids laid out napping (and Dad joining them in an ultra-reclined state).
And if those loungers aren't comfortable enough for you, then might I suggest that seating doesn't get much more comfortable than their massage chair that they also feature for that extra bit of en route relaxation.