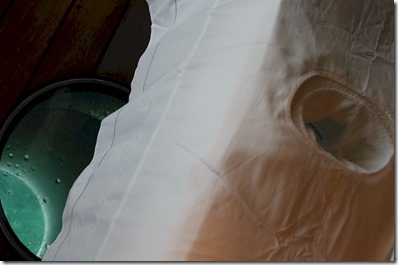 It's hard to find any fault with even the worst massage. But if I do have pet peeve with spa treatments, it is the face hole in the massage bed. The worst ones are barely padded or use an awkwardly rolled up towel. At the end of the massage, you have a big, red, aching indentation mark across your forehead. But Velaa has figured out the ultimate head support at its spa…
1. Glass Floor View – Good. If you are going to stare straight down for an extended period, then have something pleasant to set your eyes on is a treat.
2. Coral View – Better. A couple of resorts do provide glass floor views for their over-water spa treatment rooms. In every case that I've seen the view is just a sandy bottom (not the good kind). The sandy deserts of the lagoon floor have very little marine life to gaze upon aside from the stray white fish. But Velaa has situated its view directly over some fine coral croppings for an enchanting spectacle of small tropical fish darting to and fro.
3. Gel Mask – Best. Wow. I've had all sorts of face pads on massage beds from the aforementioned hard board to plush cushiony affairs. But you don't get any more soothingly soft than a gel mask. Perfect.