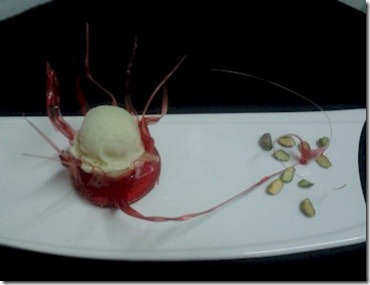 "There's always room for gelato!"
That's one of the Lynn family catch phrases from our many visits to Italy. We always end up eating sumptuous feasts (especially when our friends host us for meals). But no matter how much pasta and pizza we have consumed, we always find a way to squeeze in a little (or more than a little) gelato.
The Italians certainly do have a flair for ice cream. My favourite ice cream parlour of all time is Toscanini's in Kendall Square, Cambridge, Massachusetts with creative flavours like 'GrapeNut Raisin' and 'Ginger Snap Molasses'.
The award-winning Italian chef Rizzoli Riccardo at Vakarufalhi plies a similar passion for creative creamy concoctions like the 'Green Tea' gelato (photo above). Other innovative flavours include 'Sri Lankan Cinnamon', as well as 'Porcini Wakame' ice cream with honey and ginger.
Always room for that!