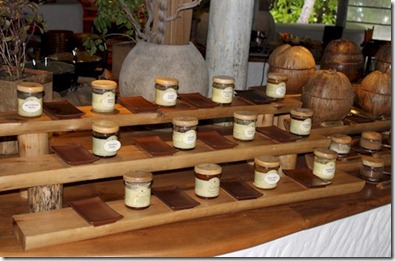 "Oh, bother. Empty again. Only the sticky part's left." – Winnie the Pooh
Today is Winnie the Pooh's birthday. Well, A.A. Milne's, Winnie's creator. Winnie, of course, notorious for his never-ending search for more honey. If he's looking for a Maldives holiday, then he should make Gili Lankanfushi his first stop.
Gili serves it both fresh from the honey comb (see below) as well as a range a varieties (photo above) for the most discerning of melicionados.
Honey is more than a tasty spread and for many has Pooh-like sacred properties. In Hinduism, honey (Madhu) is one of the five elixirs of immortality (Panchamrita). In temples, honey is poured over the deities in a ritual called Madhu abhisheka. The Vedas and other ancient literature mention the use of honey as a great medicinal and health food. In Islam, there is an entire Surah in the Qur'an called al-Nahl (the Honey Bee). According to hadith, Prophet Muhammad strongly recommended honey for healing purposes.  The Qur'an promotes honey as a nutritious and healthy food…
"And your Lord inspired the bee(s), saying: 'Take your habitations in the mountains and in the trees and in what they erect. Then, eat of all fruits, and follow the ways of your Lord made easy (for you).' There comes forth from their bellies, a drink of varying colour wherein is healing for mankind. Verily, in this is indeed a sign for people who think."
Let's hope that every 'little black rain cloud' hovering over Gili is just a hungry teddy bear in disguise.