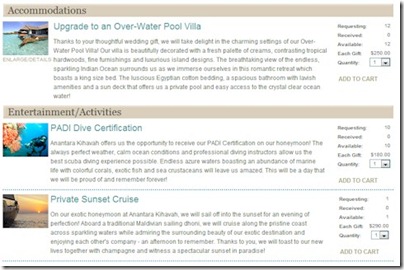 Tis indeed the season for taking the plunge. The nuptial plunge. Bridal magazines are cascading off the newsagent shelves, harried betrothed are scrambling for church bookings, and couples are getting vase.into their charming first rows over patterns for the bridal registry.
Why not avoid the latter most with gifts that everyone can agree on? That is, just about anything enjoyed in the Maldives.
Anantara (all of their Maldives properties – Kihavah, Veli, Dhigu) has introduced a 'Honeymoon Registry' with gifts like an 'Upgrade to an Over-Water Pool Villa' or a 'Private Sand Bank Day Trip'.
When Lori and I tied the knot, we loved getting cash as gifts as we were so impoverished. Starting our lives and blowing so much on the event.  During our honeymoon, we tracked our special treats (eg. nice meals out, horse and buggy ride, trip to the amusement park) and what we spent on them.  Then, when we got back and dug into thank-you note writing, and we attributed the cash gifts to the treats we enjoyed. The generous gift givers seemed to really enjoy the fact that they contributed to something special rather than just topping up a bank account.
The registries are such a help to guests and loved ones who want to make a gift. You never know quite what to get especially in these days where many people do already have a lot of the basic household items. Not to mention that massage or beach dinner sounds much better to give than a toaster or vase.